SCE-M Mag Drive Process Pump
Horizontal Single Stage Pumps with Permanent Magnetic Drive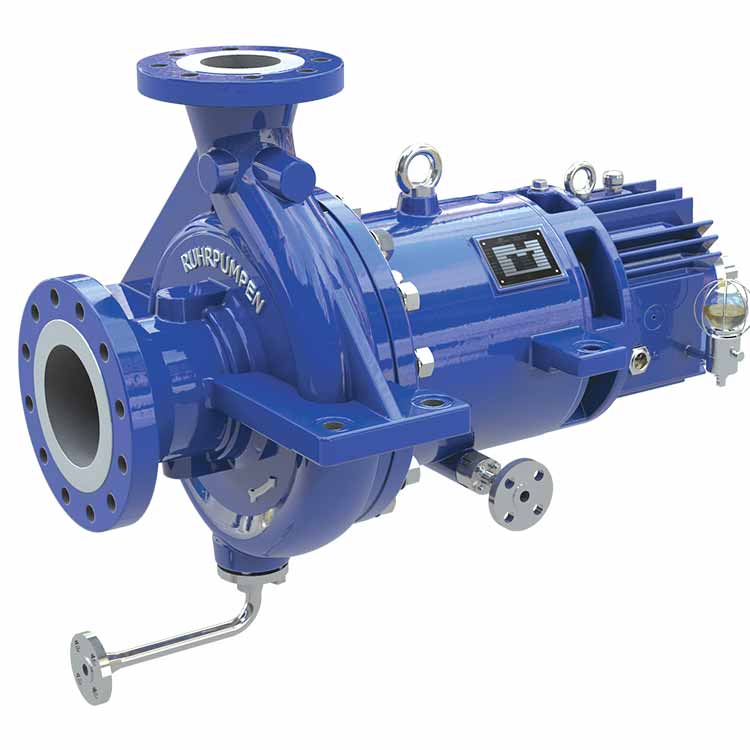 The SCE-M is a heavy-duty horizontal centrifugal process pump with permanent magnetic drive complying with the latest edition of API 685. It's 100% leakage free performance allows the safe handling of hazardous and volatile fluids.
Operation limits
Maximum Pressure up to 40 bar (580 psi)
Temperature -120 to 450 °C (-184 to 840 °F)
Discharge flanges according to ASME B16.5 up to 300# (600# as an option)
Applications Petroleum Refining, Production and Distribution, Petrochemical, Refineries, Heavy-duty Chemical, Gas Industry Services, Power Plants, Utilities.
Based on the worldwide proven hydraulic design of the SCE model, the SCE-M is a sealless centrifugal pump, 100% leakage free, avoiding high maintenance costs and usage of mechanical seals. It is the best option for heavy chemical handling applications, in completion to API 610 pumps for the majority of applications in the pretrochemical industry and refineries.
With over 130 hydraulic combinations available for the SCE-M pump, almost all customer requirements are met. To enhance performance and optimize efficiencies, the SCE-M counts with three different impellers for each pump size. It is built with the latest engineering techniques and tools such as 3D modelling and Finite Element Analyis to assure the best product quality.
CHARACTERISTICS
Horizontal, overhung, single stage
Radially split
Centerline mounted casing
End-Top nozzle arrangement
Single suction impeller
Axial thrust balance
Sealless, no mechanical seal
CONSTRUCTION MATERIALS
Materials of construction per API 685 (other materials on request)
DESIGN FEATURES
Heavy-duty process design according to API 685 latest edition
Ring Oil Lubrication (other methods available)
Replaceable front and back wear rings for casing and impeller
Patented Journal Bearing design (made of silicon carbide (SSiC))
Inducers for low NPSH available
Ceramic insulation and thermal barrier
100% leakage free containment shell, self vented and fully drainable
BENEFITS
Environmentally friendly - Zero fugitive emissions to the atmosphere
Directly interchangeable with other dimensional standard pumps
Maximum bearing life given that there are no bearing alignment problems
Cost savings through optimum efficiency
By eliminating leakage and removing unreliable seals from the design, Ruhrpumpen Sealless Magnetic Drive Pumps have a positive environmental impact and improve industrial safety over traditional sealed designs.