Delivering outstanding fire suppression pumping systems
---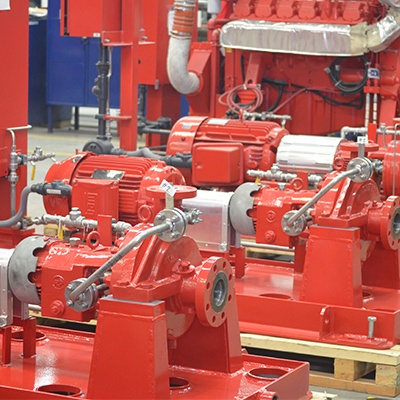 When emergencies occur, it's better to be prepared. In case that happens, you want to be able to rely on the efficiency of your firefighting equipment to ensure the adequate water supply at required pressure. Ruhrpumpen is a world leading specialist in the design and manufacture of fire protection pump packages.
Our durable fire water pumps offer a reliable solution to thousands of commercial, residential and industrial facilities worldwide.
Innovative firefighting solutions
Thanks to our broad experience in creating the most innovative pumping solutions with the highest technological level, our centrifugal fire pumps are recognized by international standards and agencies such as: National Fire Protection Association (NFPA), Underwriter's Laboratories (UL), Factory Mutual (FM) and Intertek's ETL.

We offer firefighting pumps and packages for every industry:
High-rise buildings
Manufacturing facilities and warehouses
Refineries
Offshore platforms
Municipal buildings
Commercial sites
Marine applications
Our complete range of fire protection solutions include electric and diesel fire pumps in horizontal configurations, such as our Split Case Fire Pumps; or in vertical configurations as our Vertical Turbine Fire Pumps. Additionally, fire protection pumps are available as single pumping units or as complete Packaged Fire Systems with or without enclosure, in both 50 Hz and 60 Hz.
Our team can design, manufacture and assemble these to perfectly match the specific requirements of any fire suppression application.
Pre-Packaged System with
Vertical Fire Pump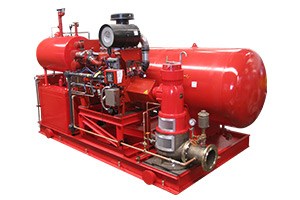 Pre-Packaged System with
Horizontal Fire Pump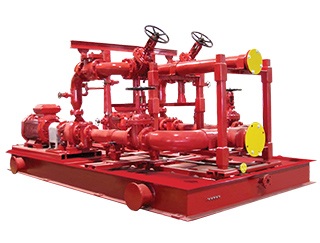 Pre-Packaged System with
In-Line Fire Pump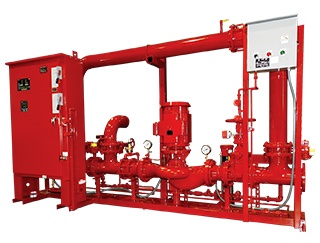 RP's Fire Pumps offer longer life, higher efficiencies, less downtime and lower maintenance costs
Our industrial fire pumps are available in electric motor, diesel engine or steam turbine driven configurations. They can be skid mounted fire pumps or fully housed packaged systems ready for installation. In addition, heavy fabricated-steel bases are available. These allow to mount the pump and driver with a flexible shaft coupling.
Rigorous Testing
During the assembly process each pump goes through meticulous production controls, inspections and tests. We use advanced testing techniques and measure with precise calibration instruments that enable us to accurately inspect every fire suppression equipment. We guarantee that the operation of each Fire Pump complies with the required standards.