CRP-M-CC Mag Drive Process Pump
Centrifugal Pump with Permanent Magnetic Drive Close Coupled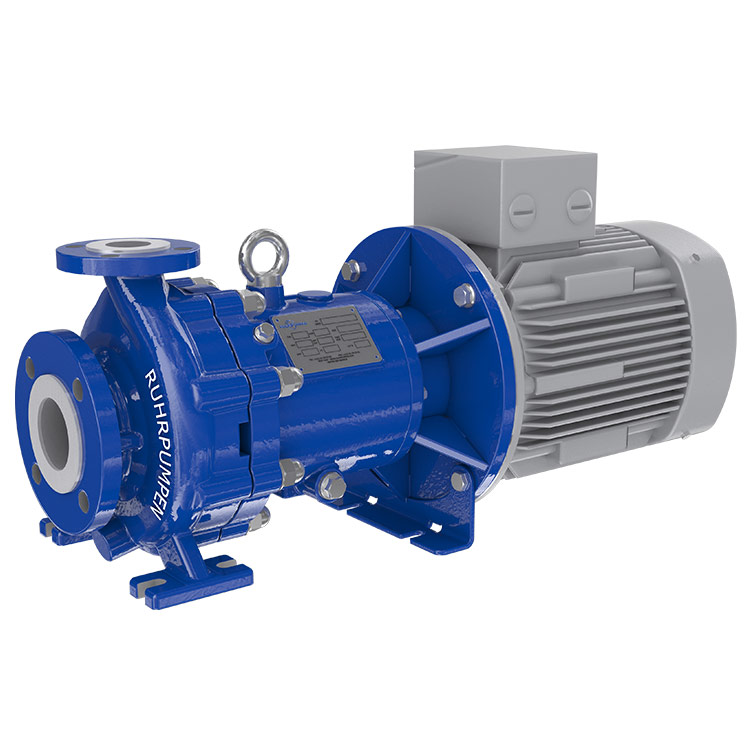 With Permanent Magnetic Drive, the CRP-M-CC sealless centrifugal pump meets full DIN EN 2858 and DIN EN ISO 15783 standards. It's 100% leakage free performance allows the safe handling of hazardous and volatile fluids.
Operation limits
Maximum Pressure to 16 bar at 120 °C (232 psi at 248 °F)
Temperature -60 °C to 250 °C (-76 °F to 482 °F)
Applications Petrochemical industry: tank farms, liquid gas. Chemical industry. Refrigeration and heat technology. Auxiliary pump in power plants. Galvano technique.
Based on the CRP-M pump with the exception that the bearing support is not required. The driver is connected by an adapter flange to the intermediate lantern.
CHARACTERISTICS
Horizontal single stage
Foot mounted casing
Back pull-out
Radially split
End suction
Top discharge
DESIGN FEATURES
Journal Bearing Design (patented)
Optimized internal flows and pressures
Efficient magnetic drive system
Axial thrust balance
Ceramic insulation and heating barrier
BENEFITS
Environmentally friendly - Zero fugitive emissions to the atmosphere
Directly interchangeable with other dimensional standard pumps
Maximum bearing life given that there are no bearing alignment problems
Cost savings through optimum efficiency
As a 100% leakage free pump, the CRP-M CC avoids the usage of mechanical seals and minimizes maintenance and operating costs. As it eliminates fugitive emissions, it is also the best option for taking care of the environment and meets the requirements of the TA-Luft specification (German Technical Instruction on Air Quality Control).