RDP Reciprocating Pumps
Reciprocating Triplex and Quintuplex Plunger Pumps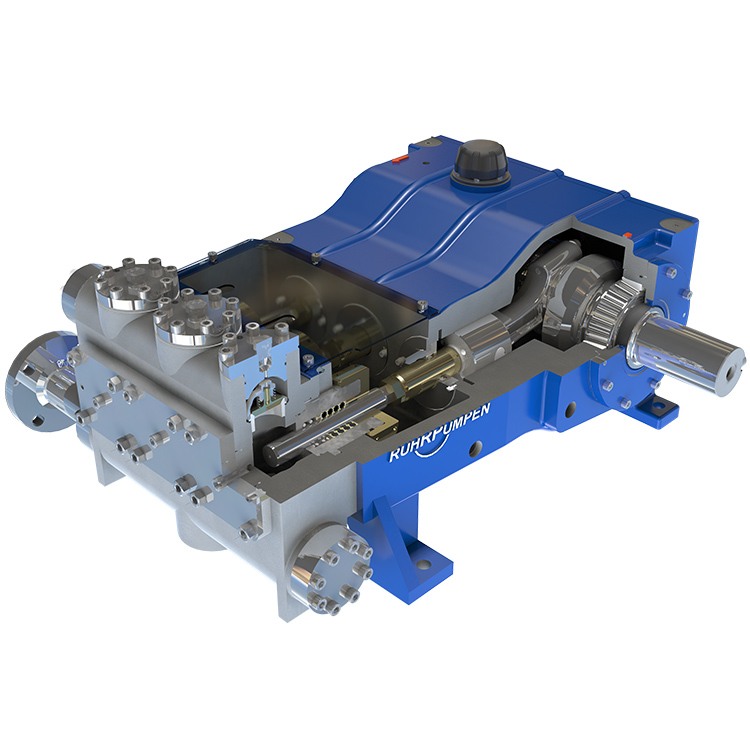 The RDP range is a series of Reciprocating Plunger Pumps in a variety of sizes in Triplex and Quintuplex formats and designed in accordance with the latest edition of API 674 and ISO 13710 for high pressure applications.
Operation limits
Maximum Pressure up to 1100 barg
Temperature -40 to 200 °C (-104 to 392 °F)
Applications Methanol Injection, Carbon Dioxide (CO2), Glycol Circulation, Sea Water Injection, Produced Water Disposal, Reverse Osmosis (seawater desalination), Water Treatment, Production and Jetting, Hydrocarbon (Condensate), Closed Drain Pumps, Slops Injection, Boiler Feed, Fertiliser (Carbamate & Ammonia), Steel Plants (high pressure descaling), Blow Out Preventer (BOPV) actuation, Flowline Circulation, Pipeline Pigging, Synthetic and Renewable fuels.
The RDP series of Reciprocating Plunger Pumps is suitable for handling most liquids for Oil & Gas, Industrial and Wastewater Treatment applications. RP's RDP pump series are a type of positive displacement pumps where a smooth cylindrical plunger slides through the seal, making it different from piston pumps and allowing higher pressures.
CHARACTERISTICS
A variety of sizes in Triplex and Quintuplex formats
Designed in accordance with API 674 3rd edition and ISO 13710
Easily accessible service points reducing maintenance time
Robust design for low noise and vibrational characteristics
High duty efficiency
Extensive range capability
Design life of 20 years
DESIGN FEATURES
Excellent noise and vibration characteristics < 85dB(A)
95% volumetric and 90% mechanical efficiency, exceeding API standards
Stuffing box can be removed without pump disassembly
Spring loaded, auto adjustment braided compression and chevron packing, minimizes leakage
Valves in cartridge, easy removal and replacement
Configurable for drives, lubrication and skids
CONSTRUCTION MATERIALS
Crankcase in ductile iron with customer specific paint finish
Wetted parts can be made from a wide range of alloys including NACE and NORSOK compliance
All materials provided are high quality and NDT can be tailored to meet the project's requirements
PACKAGE OPTIONS
Can be manufactured to meet specific specifications such as:

NORSOK
ASME
RUSSIAN CU TR
SHELL ES 135
Statoil TR1655
...and many more

Dampeners, PSV's and instrumentation can mount directly to pump head
Motor can mount directly to top of crankcase for compact offshore footprint
ATEX compliance
Package condition monitoring
Various seal and power end lubrication options
Electric motor
Diesel or petrol engine
Hydraulic motor
Variable speed drive
Various transmission options including: Gearbox / V-belt drives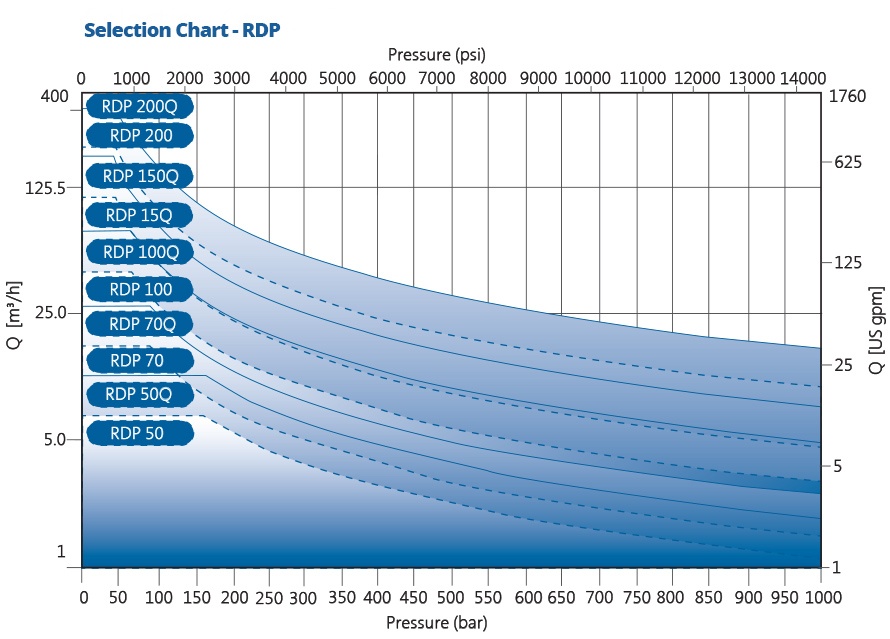 For applications outside the Operation Limits, please contact RP.