CRP-M Mag Drive Process Pump
Permanent Magnetic Drive Pump acc. to ISO 2858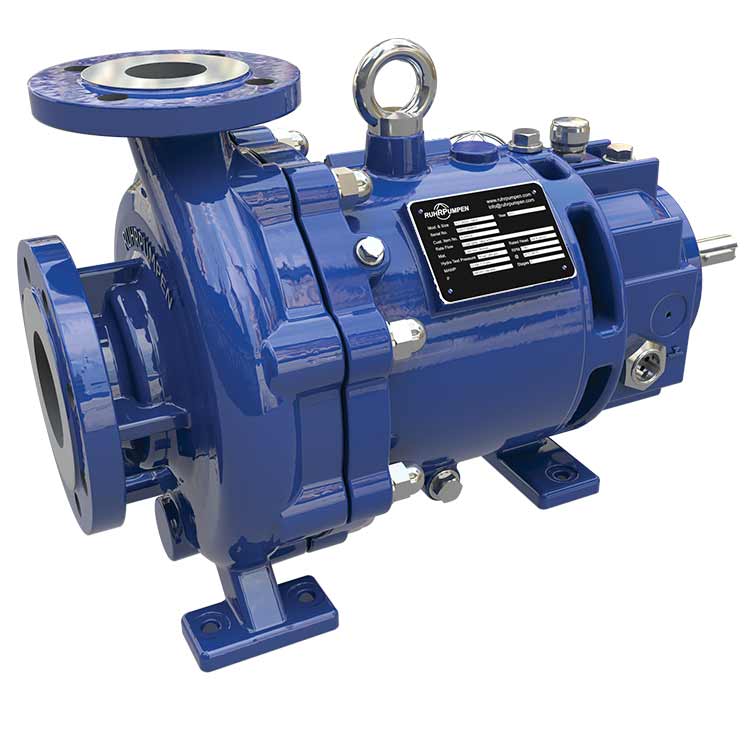 The CRP-M pump range is equipped with a permanent magnetic drive in accordance with DIN EN ISO 2858, striking new paths especially for its design of the journal bearings, optimized internal flows and pressures, its high efficiency magnetic drive system and axial thrust balancing.
Operation limits
Maximum Pressure 16 bar (232 psi)
Temperature -120 to 450 °C (-184 to 840 °F)
Note
Note: the basic design pressure is 16 bar (232 psi) at 120 °C (248 °F) for material A216 Gr.
Applications Chemical and Petrochemical Industries, Tank Farms, Liquid Gas Industry, Refrigeration and Heat Technology, Power Plants, Galvano Technique, Oil and Gas
The hydraulics of this pump range is designed to achieve high efficiencies and low NPSHr values. The CRP-M range of magnetic drive pumps consists of 35 hydraulics to meet almost all customer's requirements and is built with the latest engineering techniques and tools such as: 3D Modeling, Finite Element Analysis and CFD-Simulation, in order to assure our customers of the best product quality.
CHARACTERISTICS
Horizontal, single stage
Radially split
End-Top nozzle arrangement
Single suction impeller
Foot mounted
Axial thrust balance
DESIGN FEATURES
Spherical Journal Bearing Design (patented)
Optimized and balanced internal flows and pressures
High efficiency magnetic drive system
Axial thrust balancing
100% leakage free containment shell, self-vented and fully drainable
BENEFITS
Environmentally friendly - Zero fugitive emissions to the atmosphere
Directly interchangeable with other dimensional standard pumps
Maximum bearing life given that there are no bearing alignment problems
Cost savings through optimum efficiency