VTP Vertical Turbine Pump
Vertical Turbine Pumps (VS1)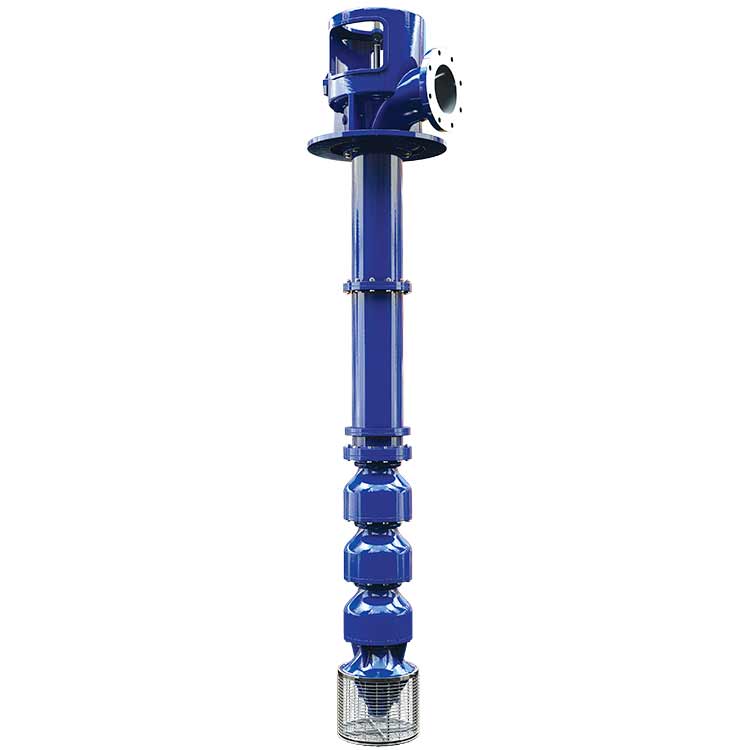 The VTP pump line is normally designed to operate in wells or sumps. Its bowl assembly consists primarily of a suction case or bell, one or more pump bowls and a discharge case. The pump bowl assembly is positioned in the sump or well at a depth to provide the proper submergence.
Operation limits
Maximum Pressure 74 bar (1,080 psi)
Temperature 0 to 121 ºC (32 to 250 ºF)
Applications Deep wells and sumps, agricultural irrigation, municipal water supply systems, water transfer, dewatering, condensate extraction, oil & gas production
CHARACTERISTICS
Multi-stage vertical centrifugal pumps with diffuser type bowl
Collet mounted Semi-Open / Enclosed impellers
Double suction first stage impeller available for ultra low NPSHR applications
Counter clockwise rotation viewed from coupling end
Product or oil/grease lubricated.
Basket or Conical strainer according to application requirements
API 610 latest edition construction API pump type VS1 / VS6
DESIGN FEATURES
API 610 latest edition construction available (VS1 & VS6 types)
Product or Oil lubricated
Oversized Bowl Shaft Sizing for longer life
Epoxy coated bowls
Collet Mounted Impellers
Also available as Submersible VTP Pump for applications such as high temperature wells, wells with limited diameter, agricultural irrigation, deep well dewatering, large construction sites and others.
STANDARD CONSTRUCTION MATERIALS
Bowls:
Cast Iron Bowls
Aluminum Bronze Impellers
416 SS Shafting
Integrity cast wear surfaces with optional wear rings in Bronze or SS
Columns:
Carbon Steel Pipe – Threaded or Flanged
AISI – 1045 Carbon Steel or 416 SS Line Shafting
Discharge Head:
Cast Iron with 125# ANSI FF Flanges
Fabricated Steel with 150# nor 300# ANSI Flanges (optional)
Custom fabricated discharge head to meet your criteria is available
Bearing Material:
Other materials and configurations available on request
Our VTP pump is also available for firefighting applications (UL listed and FM approved).
VTP Pump Performance Curve