Vertical Fire Pump
Vertical Turbine Fire Pumps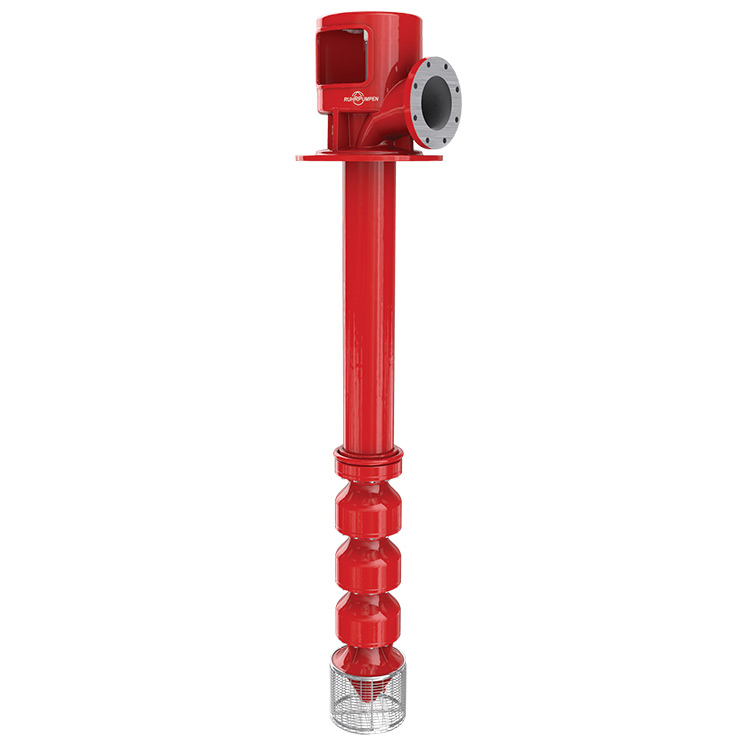 Vertical, single and multi-stage, turbine pumps for firefighting applications. UL listed and FM approved pump for suction lift conditions. Available with diesel or electric drive.
Operation Limits
Applications Commercial, municipal and residential high-rise buildings, Large industrial premises and storage warehouses, Offshore and remote facilities, Airports, Power stations.
Ruhrpumpen's vertical turbine fire pumps are available as single pumping units or complete pre-packaged fire systems (with or without enclosure).
CHARACTERISTICS
Stuffing box machined with bushing to guide shaft
Discharge head provides support for motor and entire pump
Column connections can be flanged or threaded with coupling
Bearings available in a variety of materials
Line shaft couplings machined from solid steel stock
Column assembly manufactures in-plant to ensure accurate fit
Sleeve bearings to provide long life and low friction
Enclosed impellers designed for long life and high efficiency
Standard tapered collets to secure impeller to pump shaft
Suction bowl that provides rigid support of the lower end of the pump shaft
Strainer to prevent entry of foreign objets into pump suction
Diesel or electric driven
BENEFITS
UL listed and FM approved pump for suction lift conditions
Minimal maintenance
Can be used where city water is not available and ponds or lakes are the only water supply
Construction materials for seawater service are available
Ruhrpumpen also designs marine fire pump systems with ABS certification for floating offshore facilities.
DESIGN FEATURES
NFPA-20 design
UL-448 listed
FM-1312 approved
Special designs available on request
CONSTRUCTION MATERIALS
Standard materials:
Cast iron
Ductrile iron
Carbon steel
Bronze fitted
Metallurgies available for sea/brackish water applications and harsh environments:
Stainless steel
Duplex and Super Duplex
Nickel-Aluminum-Bronze
Special materials available on request
FIRE MARKET APPLICATIONS
Sprinkler systems
Hydrant systems
Water curtains