HSC Split Case Pump
Horizontal, axially split case pump (BB1)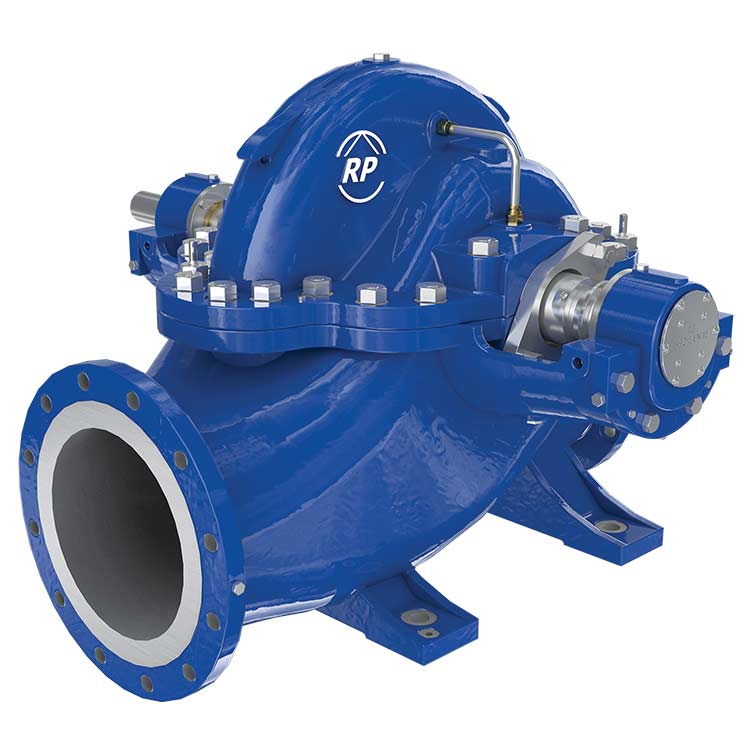 The HSC pump is a horizontal, single stage, double volute, axially split case centrifugal pump designed and built according to the Hydraulic Institute (HI) standard (BB1 type). It is part of the HS/ZW range of split case pumps by Ruhrpumpen which includes the: HSD, HSL, HSR, HSM and ZW models.
Operation limits
Maximum Pressure up to 28 bar (400 psi)
Temperature 10 to 150 °C (50 to 300 °F)
Discharge flanges sizes 5'' to 36''
Applications Petrochemical, general industry applications, power generation plants, municipal water systems, mining operations, fire protection service.
CHARACTERISTICS AND DESIGN FEATURES
Horizontal, between bearings, single stage, axially split centrifugal pump.
Hydraulic Institute (HI) design - BB1 type*
High efficiency, foot mounted design
Axially split case, double volute design minimizes thrust loads
Flanged connections
Side-side nozzle configuration
Double suction, enclosed impellers provide hydraulic balance eliminating axial thrust
Clockwise or counterclockwise rotation
Grease or oil lubricated bearings
Stuffing box configured for packing or mechanical seal
Renewable wear rings
Horizontal or vertical mounting arrangements available
*For API build, check the ZM pump range
CONSTRUCTION MATERIALS
Cast iron
Cast iron, stainless steel fitted
All bronze
All WCB grade carbon steel
All stainless steel
Other materials on request
Pump for safe drinking water
The HSC is NSF ANSI 61/372 compliant and adheres to the latest lead-free requirements of the U.S. Safe Drinking Water Act.
For fire protection systems see the split case fire pump.
Pump curve for RP's axially split case pumps: HSC, HSD, HSL, HSR, HSM, ZW