Split Case Fire Pump
Horizontal Split Case Fire Pump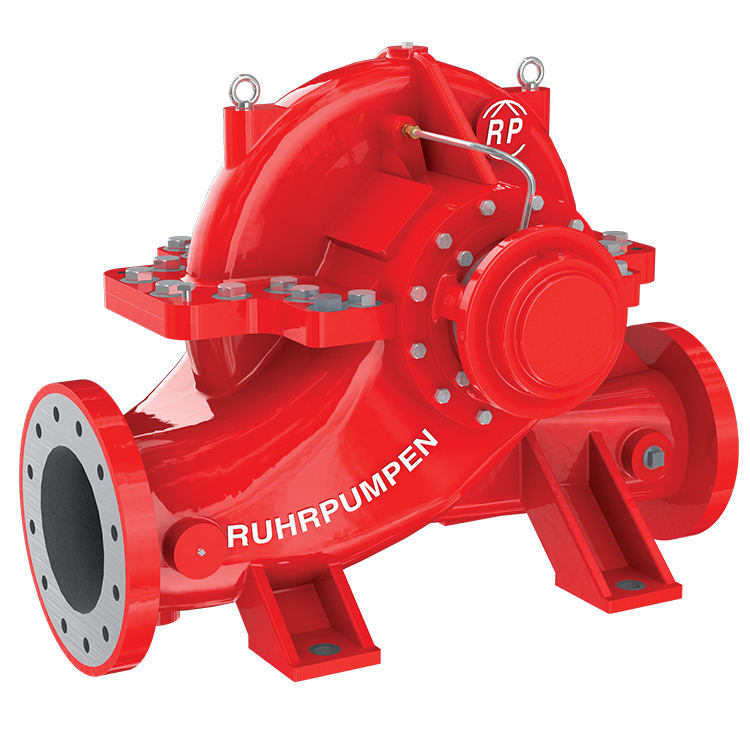 Horizontal, single and two stage, split case fire pumps for firefighting applications. NFPA-20 design. UL Listed and FM Approved.
Operation Limits
Applications Commercial, municipal and residential high-rise buildings, Large industrial premises and storage warehouses, Offshore and remote facilities, Airports, Power stations.
Ruhrpumpen's split case centrifugal fire pumps feature a heavy shaft and short bearing span that reduces shaft deflection to a minimun, providing longer packing and bearing life and lower maintenance costs, while requiring less floor space.
RP's split case fire pumps are built per NFPA 20 standards, and are listed by Underwriters Laboratories (UL) and approved by Factory Mutual (FM).
CHARACTERISTICS
Compact design and efficient operation
Shaft sleeve to protect the shaft against corrosion and wear
Interchangeable radial and thrust bearings with grease lubrication are guaranteed
Enclosed, double suction impeller, casted in one-piece and balanced to minimize thrust and ensure longer bearing life
Available with electric or diesel drive
BENEFITS
Ease of installation and maintenance
Wide range of applications
Construction materials for seawater service are available
DESIGN FEATURES
NFPA-20 design
UL-448 listed
FM-1311 approved
Special designs available on request
Ruhrpumpen also designs marine fire pump systems with ABS certification for floating offshore facilities.
CONSTRUCTION MATERIALS
Standard materials:
Cast iron
Ductrile iron
Carbon steel
Metallurgies available for sea/brackish water applications and harsh environments:
Stainless steel
Duplex and Super Duplex
Nickel-Aluminum-Bronze
Special materials available on request
FIRE MARKET APPLICATIONS
Sprinkler systems
Hydrant systems
Water curtains