VSP Chem Sump Pump
Sump Pump for Chemicals and Corrosive Substances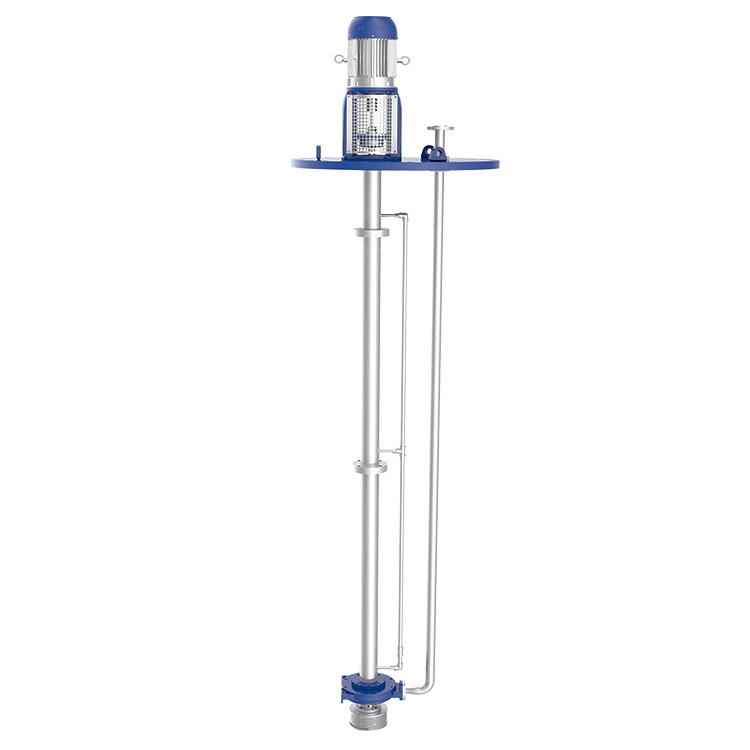 The VSP Chem is a chemical sump pump with a semi-open impeller, designed for corrosive wet pit applications. API design is available upon request.
Operation limits
Maximum Pressure up to 40 bar (580 psi)
Temperature 0 °C to 205 °C (32 °F to 400 °F)
Sump Depth up to 6.1 m (20 ft)
Applications Special for Chemicals and Corrosive Substances, Hydrocarbon Processing, Chemical Processing.
Ruhrpumpen manufactures a total of 19 standard sizes of the VSP Chemical Sump Pump. However, any other size and material can be manufactured according to customer requirements.
DESCRIPTION AND STANDARD MATERIALS
Designed to meet Hydraulic Institute standards
API 610 latest edition (VS4 type) compliant build available (with optional design features)
Single stage, vertical centrifugal pump
Cast iron or cast steel motor support assembly
316SS or Alloy 20 column and discharge pipe
Line shaft (316SS or Alloy 20)
316SS or Alloy 20 balanced, low NPSH semi-open impeller
Bearing housing with bronze guide bearings (optional materials available)
Many optional mechanical seal types available
Labyrinth oil seal at bearing housing (optional design)
Grease lubricated thrust bearing (standard) or oil lubricated thrust bearing (optional)
OPTIONAL FEATURES
Steam jacket
Column bearings
Level measuring instruments and controls