VCT Vertical Circulating Pumps
Mixed and Radial Flow Circulating Pumps (VS1 type)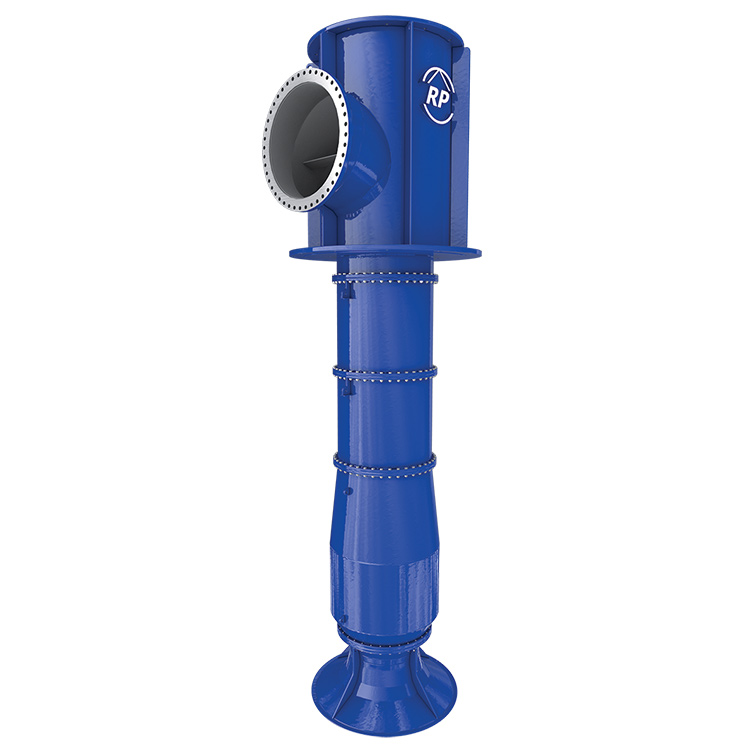 The VCT product line includes the HX, KX, MX, RX, SX, TR, VMF, VX and WX pump models for Wet Pit Applications.
Operation limits
Maximum Pressure up to 20 bar (285 psi)
Temperature -30 °C to 135 °C (-20 °F to 275 °F)
Applications Conventional Steam, Combined Cycle, Integrated Gasification Combined Cycle, Cooling Towers, General Offshore, Crude Handling and Treatment, Heavy Oil and Upgrading, Water Injection, Water Handling and Treatment, Circulating Water, Geothermal Energy.
Ruhrpumpen's VCT pump models are vertically suspended, single case, mixed or semi-radial flow, single or multistage pumps. If required, they can comply with API 610 latest edition (VS1 type) and with barrel/can they become model VMT pump (VS6 type).
CHARACTERISTICS
Mixed flow discharge elbow
All metal three-piece adjustable coupling
Thrust pot installation capability
Large stuffing box for easy maintenance
Heavy-duty flanges
Flanged column bearings
Sleeve type coupling
Open line shaft, self-lubed
Flanged top case bearing
Semi-open, open or closed impeller according to conditions of service
War rings for flow efficiency and long service life
Suction bell
BENEFITS
Space saving due to vertical installation
Engineered to customer specifications
Wide range of impeller designs
Integral bearing retainer
Sizes 500 mm (20 in) to 3,000 mm (120 in)
Optional pull-out design for ease in maintenance
Pump mounted thrust bearings when required
MATERIALS OF CONSTRUCTION
Cast Iron (standard)
Ductile Iron
410 Stainless Steel
316 Stainless Steel
Duplex
Super Duplex
Aluminum Bronze
Nickel Aluminum Bronze
Copper – Tin Bronze
OPTIONAL FEATURES
Discharge Head Options:
Above and below ground discharge installation
Mechanical seal can be furnished
All metal four piece coupling available
Column Options
Pull out design for maintenance, accessibility, and dismantling ease
Barrel / Can assembly is available to meet API and ISO standards
Bowl Assembly Options:
Flanged bearing - A bearing on the top case hub to provide maximum support and alignment to the impeller
Double suction enclosed impeller as a first stage can be mixed (using our double suction volute pump) in our KX and RX pumps
Vane grating flow modifier can be installed in the suction bell for improving efficiency and represents cost savings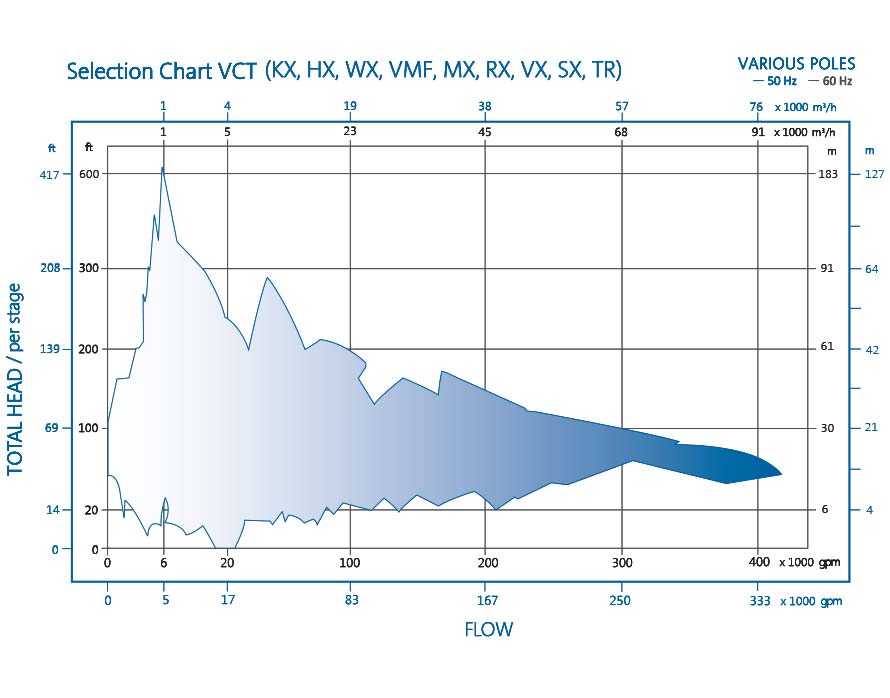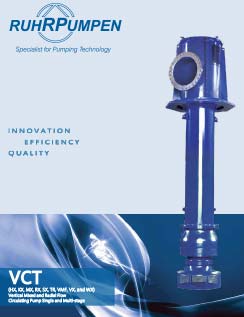 VCT Vertical Circulating Pumps Brochure - EN