STV Vertical Sewage Pump
Two Channel Impeller Centrifugal Pump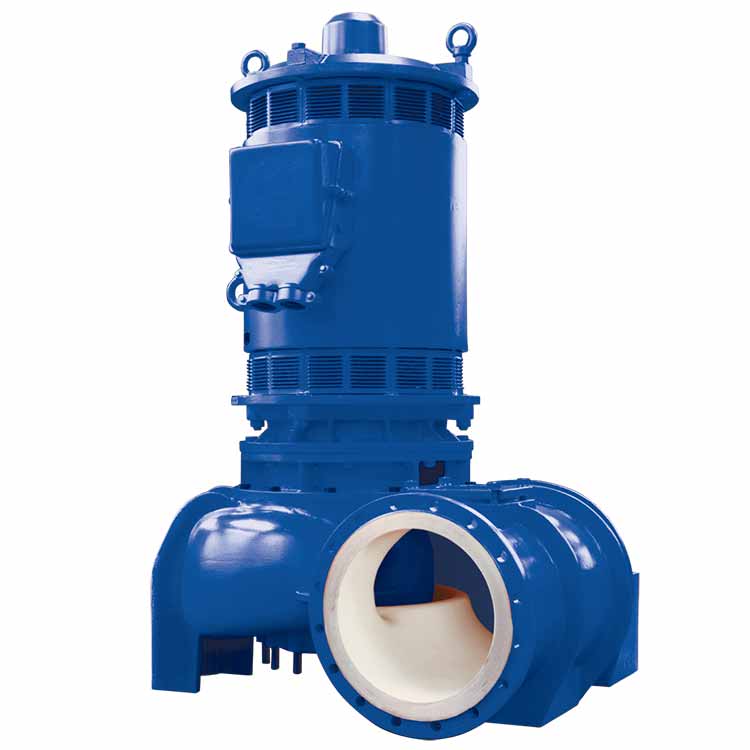 The type STV pump is the vertical variant of the ST pump, with non-clogging and non-stringing two-channel impeller in pot design. The STV is suitable for pumping sewage with coarse solid matter and fibrous content without upstream screen. For horizontal installation check the ST pump model.
Operation limits
Maximum Pressure up to 4.5 bar (65 psi)
Temperature -10 to 80 °C (14 to 176 °F)
Speed up to 1,180 rpm
Applications Disposal or wastewater, Raw sewage, Activated sludge, Mixed water, Fecal matter, Rain water
The STV vertical sewage pump is designed with a bearing bracket for direct drive with electric motor via flexible coupling. Support of the motor via pump casing and motor stool or installation on a separate floor.
CHARACTERISTICS
Vertical installation
Single suction
Single stage centrifugal pump
Two-channel pot impeller
Heavy-duty bearing bracket
Radially split
Tangential discharge nozzle
DESIGN FEATURES
Bearing bracket for direct drive by electric motor, via flexible coupling
Compact design, for direct coupling with electric motor
Back shroud blades on the impeller serve as axial thrust compensation and protection against intrusion of particles into the area of the shaft seal
STANDARD CONSTRUCTION MATERIALS
Casing: Cast iron GG-25
Wear Ring: Cast iron GG-25
Impeller: Cast iron GG-25
Shaft sealing: PTFE-coated sealing rings with grease lubrication
Shaft sleeve: G-X20 Cr14
Seal cover: Steel
Pump shaft: Steel C 45
Motor shaft: Steel C 45