HQ Vertical Circulator
Vertical Circulator Multi Stage API 610 Pumps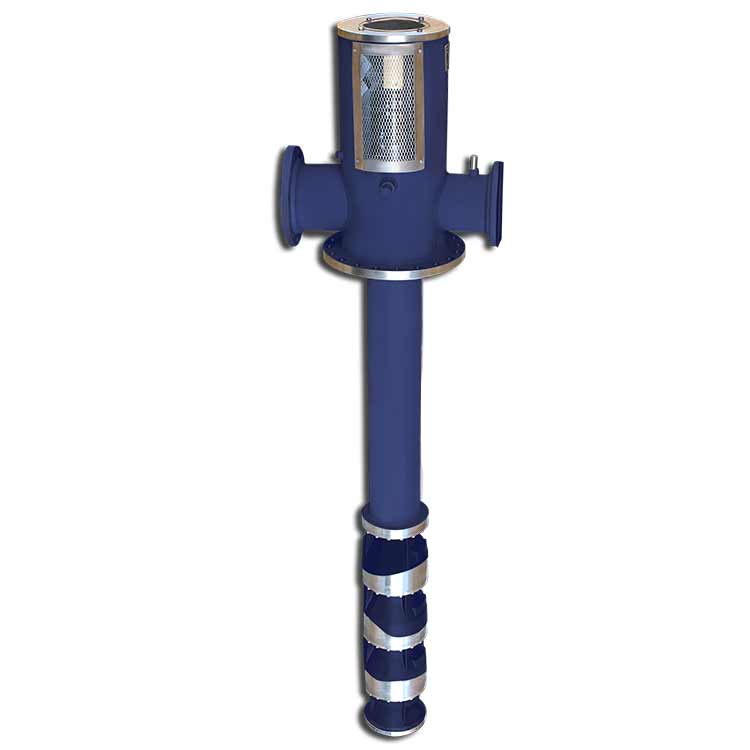 The HQ vertical circulator multi stage pumps consist of a bowl assembly, suspended on a discharge column from a base plate at the mounting floor. The length of the column is dictated by the application.
Operation limits
Maximum Pressure 17 bar (250 psi)
Temperature up to 135 °C (275 °F)
Discharge flanges sizes 12'' to 36''
Applications Fresh water, sea water, wastewater and effluent applications, Hydrocarbons and chemicals, Cooling tower, Pipeline service, General industrial services.
CHARACTERISTICS
Pumps fabricated using ASME Section IX welding procedures and qualified welders with welds stamped for quality control
All metal-to-metal rabbet fits sealed with O-ring gaskets
Continually rising head capacity curve from maximum flow to shut off
Non-overloading horsepower curve from best efficiency flow to maximum flow
DESIGN FEATURES
API 610 latest edition construction available (VS1 type)
Head room for motor removal minimized by use of vertical solid shaft coupling construction
Integrally fabricated bearing spider construction of 5-foot maximum spacing between bearings
CONSTRUCTION MATERIALS
Cast iron bowls
Aluminum bronze impellers
416 SS shafting
Integrity cast wear surfaces with optional wear rings in Bronze or SS
Optional materials available on request
Columns:
Carbon steel pipe – threaded or flanged
AISI – 1045 carbon steel or 416 SS line shafting.
Optional materials available on request
Discharge Head:
Cast iron with 125# ANSI FF flanges
Fabricated steel with 150# or 300# ANSI flanges (optional)
Custom fabricated discharge head to meet your criteria available
Bearing Material:
Bronze as standard
Other materials and configurations available