VLT Cryogenic Pump
Vertical Cryogenic Process Pump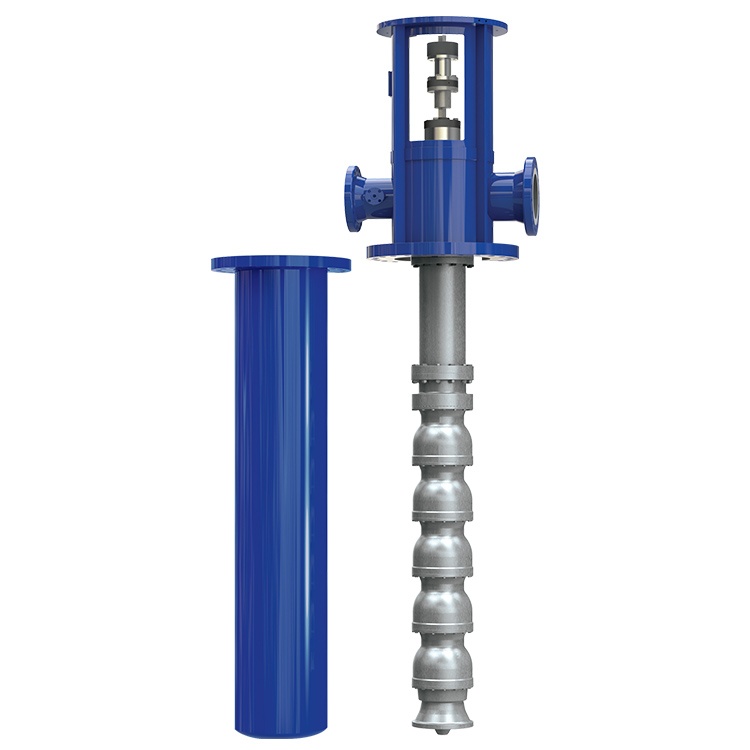 The cryogenic VLT pump is a vertical "canned" pump consisting of a multi-stage bowl assembly, a suction barrel, nozzle head and a directly connected vertical driver.
Operation limits
Maximum Pressure 140 bar (2,020 psi)
Temperature -195 to 565 °C (-320 to 1,050 °F)
Applications Cryogenic Applications
Ruhrpumpen's cryogenic VLT pump is the development of years of experience in cryogenic service and considers the unique engineering challenges associated with low temperature, cryogenic pumping. These pumps are used both stand-by and continuous service.
The pump is designed to mount in a "cold box" so that all of the low temperature portions of the unit can be insulated. It is normally driven by a vertical solid shaft electric motor that is designed to carry the hydraulic thrust developed by the pump through grease lubricated anti-friction bearings.
CHARACTERISTICS
Low NSPH "Shockless Entry" first stage impeller
Double suction first stage available
Over 700 vertical Ruhrpumpen pump hydraulics can be used for construction
Integral fabricated column support bearings
Rigid 4-piece coupling
Single or Double Suction first stage
Single Stage or Multistage available
Nozzles are available with the suction in the head or barrel
DESIGN FEATURES
Vertical construction designed for mounting in an insulated "cold box" for immediate and ready start up
Special first stage impeller with low NPSH requirement characteristics to keep pump length to a minimum
Simple thermal isolation of sealing area requiring no heaters or special temperature controls
Simple sealing systems for isolating gaseous product from atmosphere
Provision for monitoring sealing performance
Conventional vertical solid shaft motor utilizing grease lubricated anti-friction bearings with long minimum bearing life