Combitube
Low Flow, High Head, Pitot Tube Pumps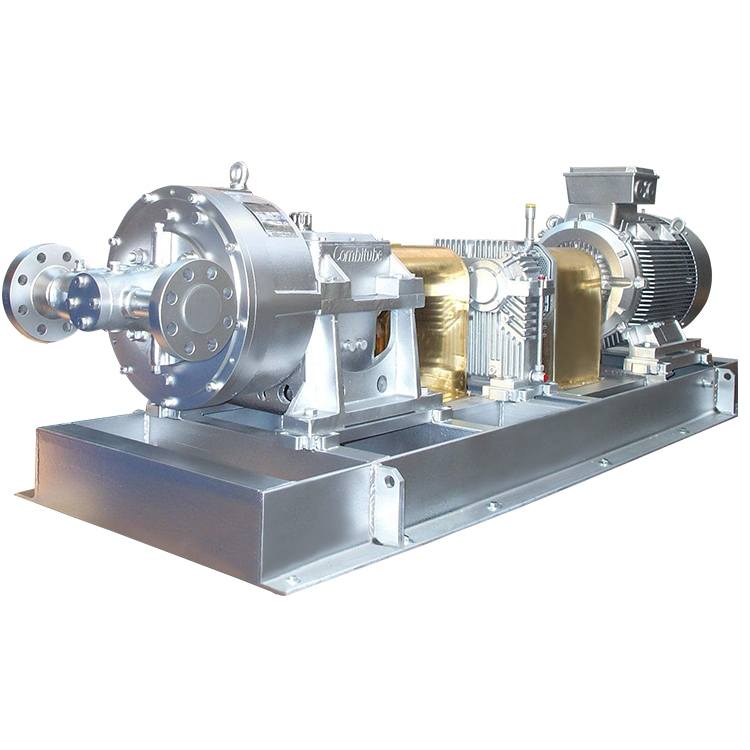 Single stage pitot tube pumps designed for low flow, high head applications...
Operation limits
Maximum Pressure up to 160 bar (2,320 psi)
Temperature up to 200 °C (390 °F)
Discharge flanges 50 mm (2'')
Applications Reactor feed, Boiler feed, Felt cleaning, Edge cutting, Condensate injection, High pressure cleaning in food processing, Packaging, Filter press cleaning, Descaling, High pressure showers for quenching, High pressure coolant feed, Leak testing engine injector testing, Reverse osmosis, High pressure cleaning of tanks, trucks and trains, Injection for secondary recovery, Desuperheating.
The Combitube pumps can operate reliably at any point on the performace curve unlike centrifugal pumps which naturally have a more restricted operating range down to Minimum Safe Flow. The main characteristic of this pump is its no impeller technology.
The Combitube pump range has been designed to incorporate the best features of pitot tube technology whilst improving the overall design, reducing part complexity and cutting life cycle costs. This results in the benefits of lower maintenance, a reduced requirement for spare parts, enhanced reliability and therefore reduced "life-cycle" costs. All of which lead to increased customer satisfaction, and give an enhanced ownership experience.
CHARACTERISTICS
Horizontal Single Stage
Pitot tube pump
Pulsation free operation
Side-side nozzle arrangement
Oil and grease lubricated versions
Counter clock wise when viewed from motor end
DESIGN FEATURES
Heavy duty mechanical construction
No impeller design. Pitot tube technology
Designed for low flow, and high heads
Oil cooling coil could be provided
Single or double mechanical seal for shaft sealing
No contact between pumped medium and pump lubricant
Complies with ATEX legislation