IVP Vertical In-Line Pump
Vertical In-Line Split Coupled Pumps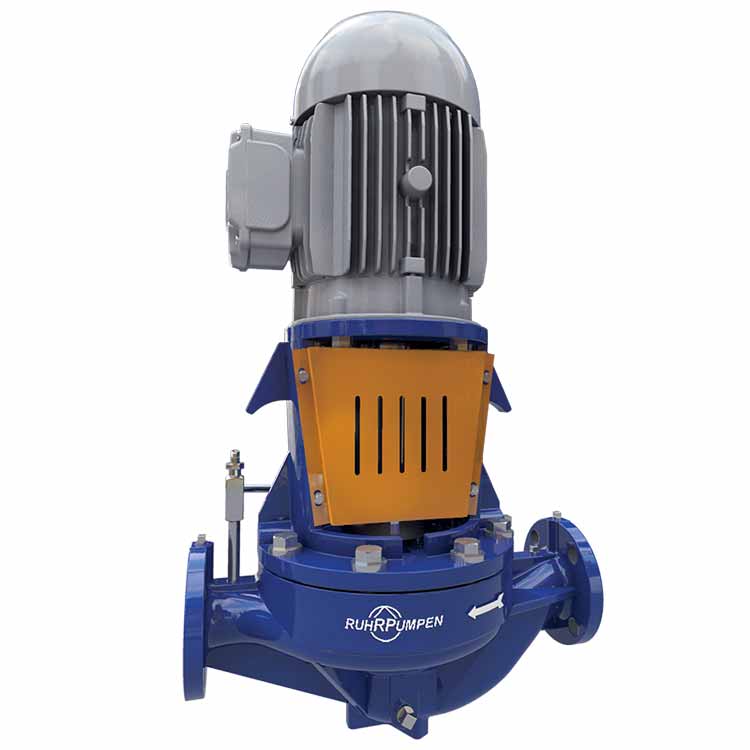 The IVP vertical in-line pump design is available in 28 hydraulic sizes and with a split coupled configuration. It is engineered to allow direct connection to the pipelines while using a reduced space. Its design facilitates maintenance, as the replacement of the mechanical seal becomes fast and simple without disconnecting the pump from the pipeline or removing the motor.
Operation limits
Maximum Pressure up to 19 bar (275 psi)
Temperature 45 to 150 °C (-50 to 300 °F)
Applications Chemical, Petrochemical, Petroleum, Coal, Fiber, Pulp and Paper, Food and Beverage, Pharmaceutical fats and oils, Fabrication utility, Fire service, Air conditioning systems, Ice service, Ocean and condensed water, Building water supply systems
Ruhrpumpen's IVP vertical in-line pump design comes in 28 hydraulic sizes. It allows direct connection to the pipelines, which reduces installation costs with a compact design. The IVP pump line is available in both configurations: split coupled and close coupled (see IVP-CC in-line close coupled pump).
CHARACTERISTICS
Split-coupling simplifies maintenance and allows an easy access to the mechanical seal without disconnecting the pump or removing the motor
Flanged suction and discharge in common center line
Designed for working with pressures up to 275 psi
Fully enclosed, balanced, one-piece impeller design
Coupling guard for protection during operation
Water Drainer to avoid condensed water collection