CRP ISO Process Pump
ISO 2858 and ISO 5199 End Suction Process Pump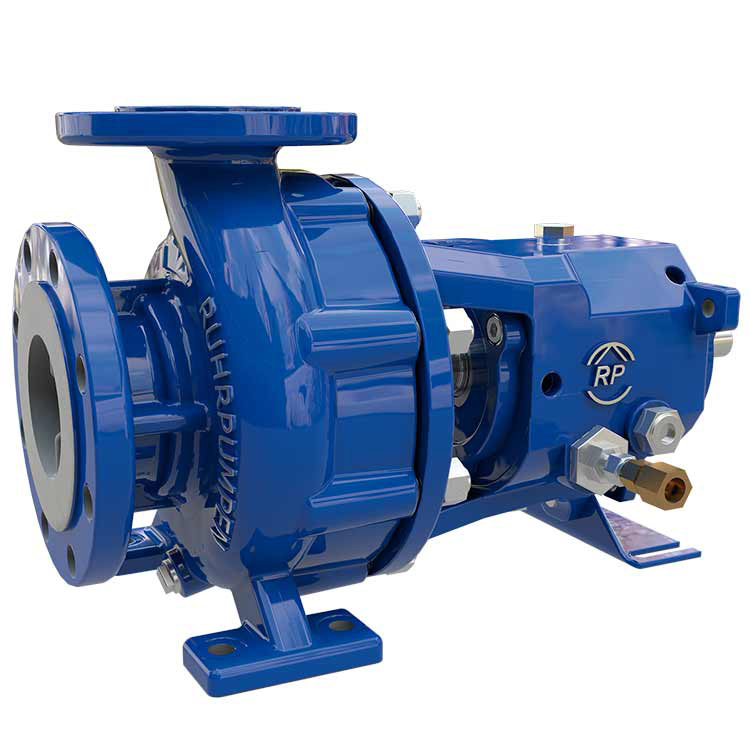 The CRP line of process pumps features 33 hydraulic combinations and is designed to meet the ISO 2858 and ISO 5199 specifications and comply with directive 94/9/EG (ATEX 100).

Operation limits
Maximum Pressure up to 25 bar (360 psi)
Temperature up to 300 °C (572 °F)
Applications Petrochemical industry: auxiliary pump in tank farms and pipelines. Chemical industry. General industry: automotive, agriculture, pulp and paper, pharmaceutical, textile, food processing. Mining. Auxiliary pump in power plants. Water treatment.
The CRP line features 33 sizes to precisely meet service conditions within a wide range of hydraulic parameters. The line was also designed to accommodate many different optional features such as wear rings on the pressure casing and cooling coils for bearing housings.
CHARACTERISTICS
Horizontal ISO process centrifugal pump
Fully in compliance with ISO 2858 and ISO 5199
HI design (OH1)
Single stage, overhung centrifugal pump
Radially split casing with flanged connections
Horizontal end suction and vertical discharge on the center line
Foot mounted
Enclosed impeller
Clockwise rotation (viewed from coupling end)
Oil lubricated
Casing and casing cover wear ring are replaceable
BENEFITS
Back pull-out design for ease of maintenance, allows removal of pump assembly without disturbing casing flange connections
Optimum efficiency
Various materials of construction available
Durable mechanical seal
Compact design
OPTIONS
Double mechanical seals can be furnished
Constant level oiler
Cooling coil available
Grease and oil mist lubricated bearings
CONSTRUCTION MATERIALS
Carbon steel
Duplex
Stainless steel
Other materials on request.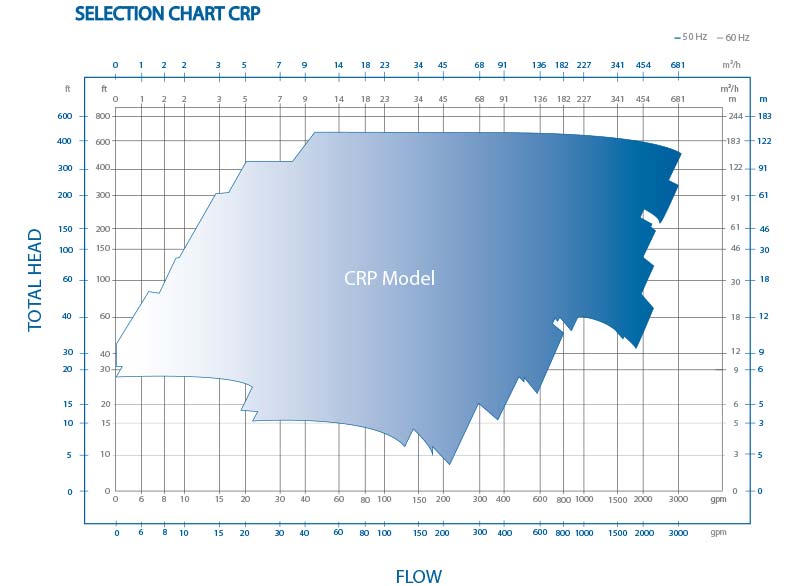 Even though the ISO 2858 and the ISO 5199 cover the same type of industrial pumps, they are different.
ISO 5199 covers the technical specifications for Class II centrifugal pumps of single stage, multi-stage, horizontal or vertical construction, with any drive and any installation for general application. Pumps used in the chemical process industries (e.g. those conforming to ISO 2858) are typical of those covered by this standard.
ISO 2858 specifies the principal dimensions and nominal duty point of end suction centrifugal pumps having a maximum operating rating of 16 bar.
To sum up, ISO 2858 focusses on external dimensions and mounting details, while ISO 5199 also specifies a variety of performance requirements and construction features.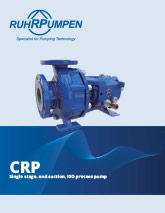 CRP ISO Process Pump Brochure - EN