CPO ANSI Process Pump
ANSI / ASME B73.1 process pump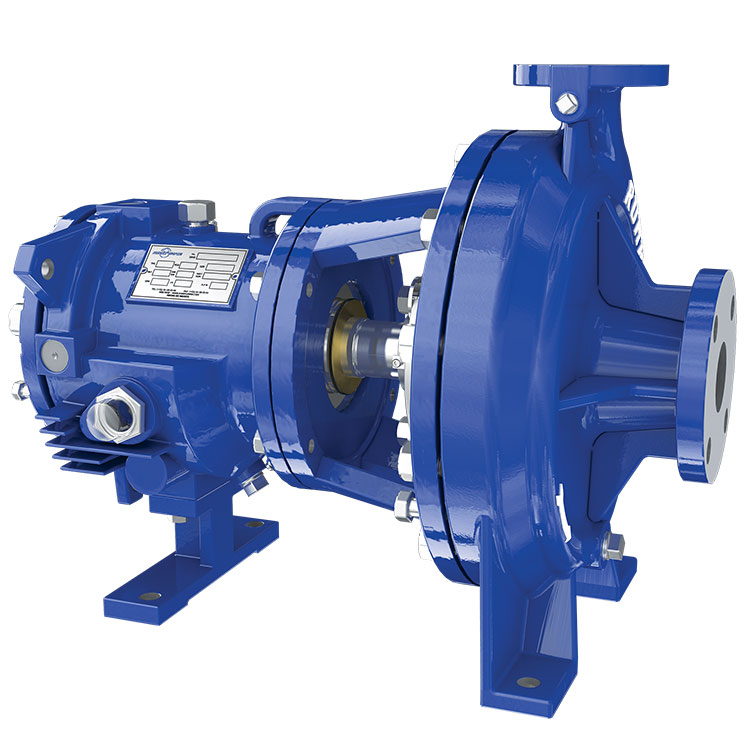 This rugged process pump is ANSI / ASME B73.1 compliant and operates even in the toughest industrial and chemical applications. Its highly-engineered Power Frame is 100% interchangeable with competitor pump brands.
Operation limits
Maximum Pressure up to 375 psi (26 bar)
Temperature up to 700 °F (371 °C)
Discharge flanges 1" to 8"
Applications petrochemical, oil & gas, steel industry, automotive, agriculture, tank farms, pulp and paper, chemical, semiconductor, food processing, power generation, pharmaceuticals, water treatment, pipeline, general industries, textile, mining.
With +30 hydraulics, the CPO pump line is designed to meet and exceed the ANSI/ASME B73.1 specification. Its open impeller design covers a wide range of service conditions (including a low flow region with our CPO-L model) while providing industry-leading low NPSHR performance and high efficiencies.
The CPO pump is designed around a modular concept which allows the provision of multiple hydraulics with a small number of Power Frames. In addition, these Power Frames are completely interchangeable with models of other common ANSI pump manufacturers.
CHARACTERISTICS
Designed to meet your most difficult applications with a state-of-the-art open impeller, CD4MCu wetted parts as standard and a heavy-duty Power Frame.
Horizontal, overhung, single stage, end suction ANSI process pump
Foot mounted, back pull-out design for ease of maintenance
Dimensional interchangeability with most common ANSI/ASME B73.1 pump manufacturers
Open impeller design allows handling of solids in suspension. The impellers are locked onto the shaft by threads and sealed with an O-ring
External impeller adjustment sets impeller quickly and accurately without the need for special tools
Machined flat surface suitable for use with magnetic mount vibration probe
Pre-loaded, double row, angular contact thrust bearings minimize axial shaft end-play thus maximizing mechanical seal life
A robust solid shaft with outstanding L3/ D4 for low vibration and increased mechanical seal life (shaft sleeves are available as an option)
INPRO VB45-STM labyrinth bearing isolators to avoid bearing contamination
Lubrication:

Oil bath lubrication as standard, with option for grease and oil mist lubrication
Large capacity oil sump and finned housing provide superior cooling
Optional finned oil cooler
OPTIONAL FEATURES
C-Frame motor adapter
Different baseplate mounting systems
Sealing

Large taper bore with flow modifiers
Standard large and small bore

Cooling coil to maintain proper oil temperature in hot applications
CONSTRUCTION MATERIALS
Materials in stock:
DI / SST
DI / Duplex
SST / SST
Duplex / Duplex
Special materials:
Alloy 20
Hastelloy B and C
Zirconium
Titanium
Other materials on request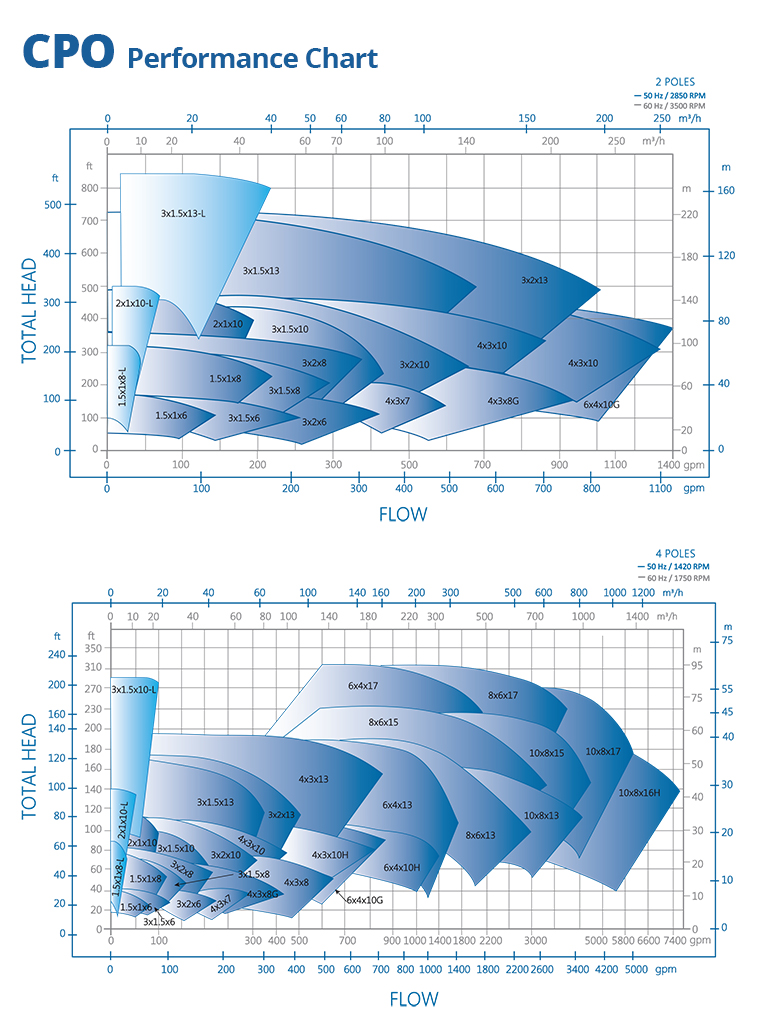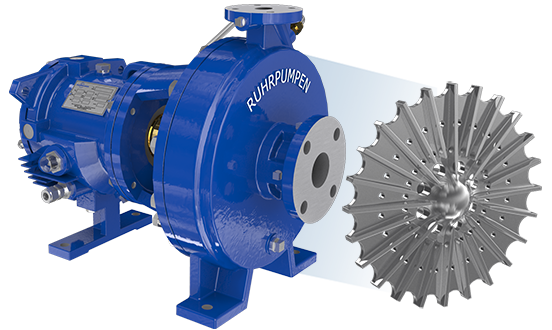 Designed to fill the gap on the low flow side of the CPO range map, the CPO-L counts with a radial vane impeller especially designed to reduce the thrust load and seal chamber pressure normally associated with low flow applications. It also complies with the ANSI/ASME B73.1 standard.
With low flow applications, it is important to reduce the radial load and potential shaft deflection issues. Ruhrpumpen's radial vane impeller and concentric pump casing for the CPO-L are specifically designed to reduce these issues at low flow or throttled operating conditions. The radial vane impeller with balance holes also reduces seal chamber pressures. This will lead to increased seal and bearing life and increased reliability.