Pre-Packaged Systems
Pre-packaged Fire Suppression Systems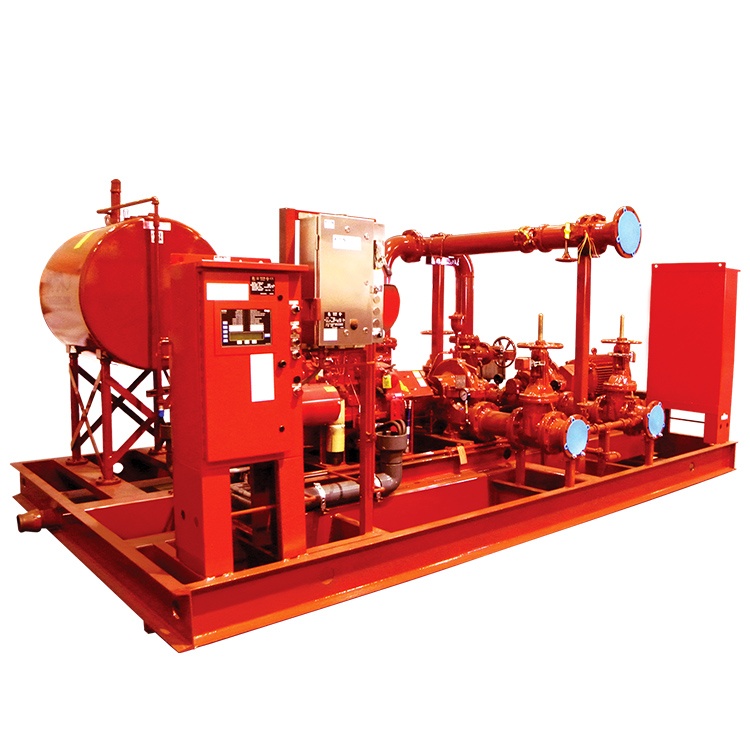 RP's Pre-Packaged Systems are available with or without enclosure and ready for installation. Their designs satisfy the most stringent operational testing to meet safety standards established by the NFPA.
Operation Limits
Applications Commercial, municipal and residential high-rise buildings, Large industrial premises and storage warehouses, Offshore and remote facilities, Airports, Power stations
Ruhrpumpen's Pre-Packaged Systems incorporate pumps, drivers, control systems and pipework in a single container for an easier installation. They can be skid mounted, with or without full house enclosures, and supplied with electric motor or diesel engine.
RP's Pre-Packaged Fire Systems can be dimensioned to perfectly match the specific requirements of any application
DESIGN FEATURES
ETL/C-ETL Third Party listing components
UL listed and FM approved components
NFPA 20 full compliance
NFPA 850 compliant
Certified ASME section IX welding, AWS D1.1 certified structural welders
BENEFITS
Single source responsibility
Factory tested
Reduced field installation costs
Delivered to site in a single shipment
International distribution and start-up capabilities
Compact design makes it space efficient
Completely wired
Ruhrpumpen also designs offshore Fire Pump Systems with ABS certification for floating offshore facilities
CONSTRUCTION MATERIALS
Standard materials include:
Special materials available on request
FIRE MARKET APPLICATIONS
Sprinkler systems
Hydrant systems
Water curtains