End Suction Fire Pump
ANSI End Suction Fire Pumps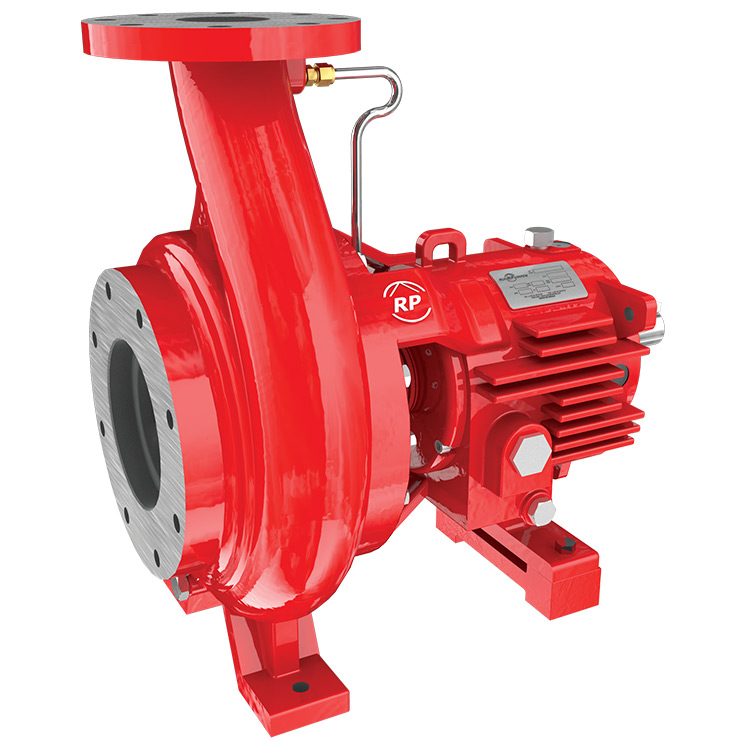 Single stage, end suction firefighting pumps. NFPA-20 design. UL Listed and FM Approved. Also available as Jockey Pumps.
Operation Limits
Applications Commercial, municipal and residential high-rise buildings, Large industrial premises and storage warehouses, Offshore and remote facilities, Airports, Power stations, Hospitals
CHARACTERISTICS
Single stage horizontal centrifugal pump
Available with electric or diesel drive
The heavy-duty power frame of the CPP incorporates additional oil cooling and heat dissipation
Robust 316SS sleeved shaft (as standard) for extended seal life
Vertical discharge on the center line
Enclosed impeller design ensures maximum efficiency
Standard Inpro/Seal® bearing isolators
Double row thrust bearing that provides minimal shaft end play for extended mechanical seal life
BENEFITS
Back pull-out design simplifies maintenance and reduces problems associated with pipe strain
Ruhrpumpen also designs marine fire pump systems with ABS certification for floating offshore facilities.
Also available as a Jockey Pump.

DESIGN FEATURES
NFPA-20 design
UL-448 listed
FM-1319 approved
Special designs available on request
CONSTRUCTION MATERIALS
Standard materials:
Cast iron
Ductrile iron
Carbon steel
Metallurgies available for sea/brackish water applications and harsh environments:
Stainless steel
Duplex and Super Duplex
Nickel-Aluminum-Bronze
Special materials available on request
FIRE MARKET APPLICATIONS
Sprinkler systems
Hydrant systems
Water curtains