Drill Stem Drive
Hydraulic Decoking Systems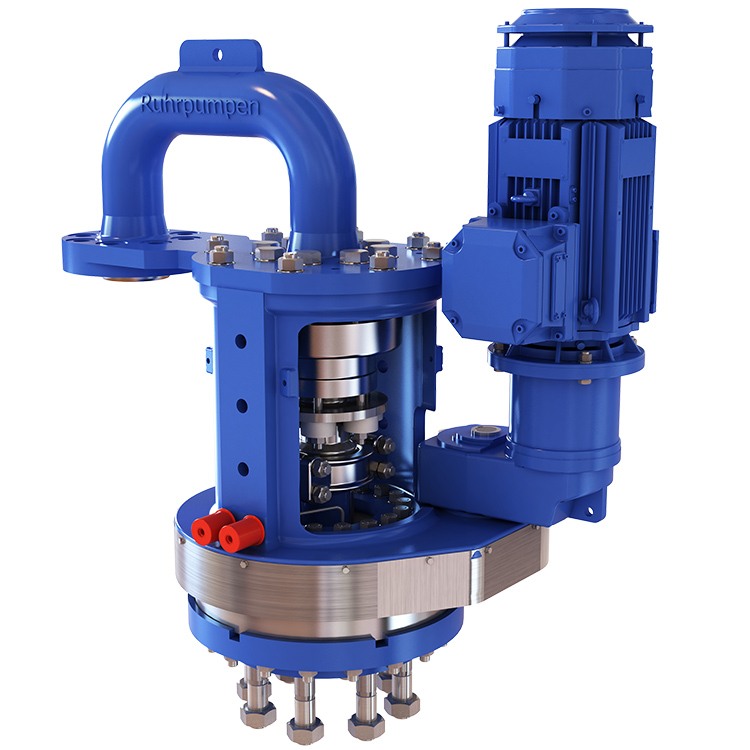 The patented Ruhrpumpen Drill Stem Drive provides a new and robust design with efficient operational features for Coke Cutting Systems. It can be installed without interruption to existing operation and adapted to existing crossheads without modification to the control limit switches or mechanical stops.
Operation limits
Applications Hydraulic Decoking Systems
CHARACTERISTICS
Can normally be installed without interruption to decoking operations
Fits within the existing swivel envelope
Can be adapted to existing crossheads without modification to control limit switches or mechanical stops
Can easily revise existing connection to the drill stem from a unibolt coupling to a FlangeLok® or equivalent flanged connection
DESIGN CONDITIONS
Max Torque: 7,500 Nm (5,500 lb ft)
Max Bearing Load: 65,000 kg (143,000 lbs) @ 15 rpm
Max Operating Pressure: 420 bar (6,090 psi)
DESIGN FEATURES
Reduced Maintenance:
Oil reservoir at main gear eliminated
Potential contamination points eliminated
Grease lubrication (eliminates oil bath lubrication) at all main points
Improved maintenance features:
One long-life bearing (13 year B10), instead of the three-bearing design installed in non-Ruhrpumpen design
Reduction in number of parts and potential leakage paths in comparison to non-Ruhrpumpen designs
Main Bearing/gear cartridge, can be changed in the field
Packing cartridges designed for quick replacement
Cartridge design reduces the number of parts and permits quick repair of the unit on the cutting deck
This inturn reduces the potential requirement for a crane rental
Drive Flexibility:
Available as electric, hydraulic or pneumatic driven unit.
NOTE: Ruhrpumpen's Service and Repair Centers can supervise or perform cartridge change out on the cutting deck
We supply engineering services and heavy-duty components for Hydraulic Decoking Systems, including:
Moreover, our Global Service Network is fully equipped to offer spare parts and repair services for decoking equipment and systems. Our experience includes Freefall Arrestor revamps and retrofits without interruption to existing operations.