Coke Cutting Tool
Hydraulic Decoking Systems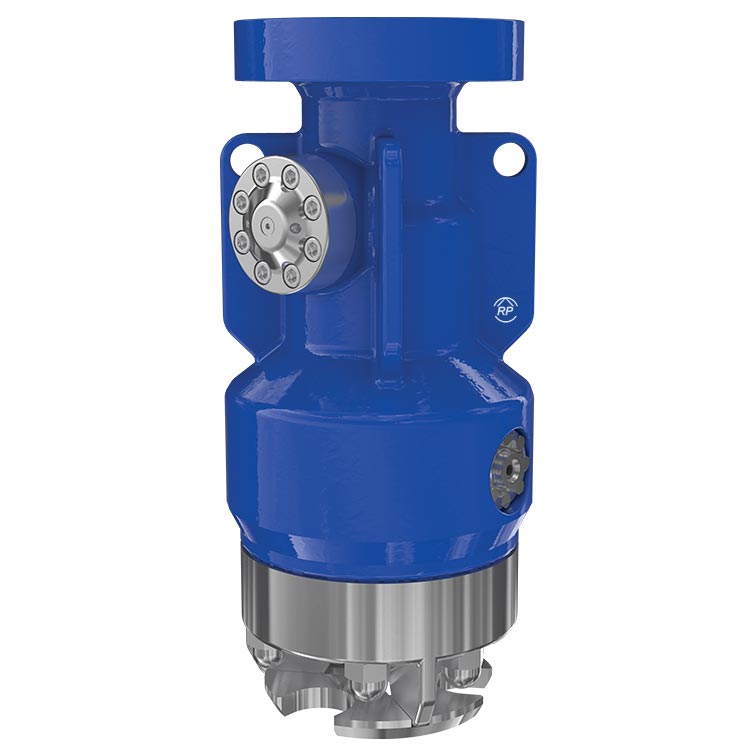 Ruhrpumpen's Coke Drilling / Cutting Tool is a patented design that offers significant advantages in operation and safety for Delayed Coking processes in refineries.

RP's Coke Drilling / Cutting Tool is designed for minimum torque and requires minimal lift force due to its reduced cross-sectional area. The Manual Switching Tool has been available since 2001, while the Auto-Switch version has been available since 2006.
Operation limits
Applications Hydraulic Decoking Systems
BASIC DESIGN
Slim tool design with 13" (310 mm) diameter
Low lift force
Low torque
Hydrodynamically optimized flow passages
Bolted nozzles for quick change out in the field
Bolted auto-switch cartridge for quick change out in the field, arranged at the top of the tool
Integrally cast compact flange design standard, units also available with uni-bolt couplings
Strong centre Drill nozzle with auxiliary peripheral nozzles for strong drilling
VALVES
Puck valves
No seals
Pressure operated
CUTTING NOZZLES
2 nozzles 0° / 0°
2 nozzles 10° / 10° as alternative
DRILLING NOZZLES
1 strong centre nozzle; 1x40% power
3 periphery nozzles; 3x20% power
INTERFACES FOR TOOLS AND GUIDE PLATES
Guideplate can be connected to the existing drum flange, in a semi-automatic or automatic deheading system.
TOP DEHEADING
Ruhrpumpen-Tool and guideplate together
Top Unheading Valve

Coking Mode
Decoking Mode
Installation of Top Deheading Systems
Ruhrpumpen Tool and guide plate
Ruhrpumpen operator shelter
We supply engineering services and heavy-duty components for Hydraulic Decoking Systems, including:
Moreover, our Global Service Network is fully equipped to offer spare parts and repair services for decoking equipment and systems. Our experience includes Freefall Arrestor revamps and retrofits without interruption to existing operations.