HSM Multi-Stage Split Case Pump
Horizontal, multi-stage, axially split case pump (BB3)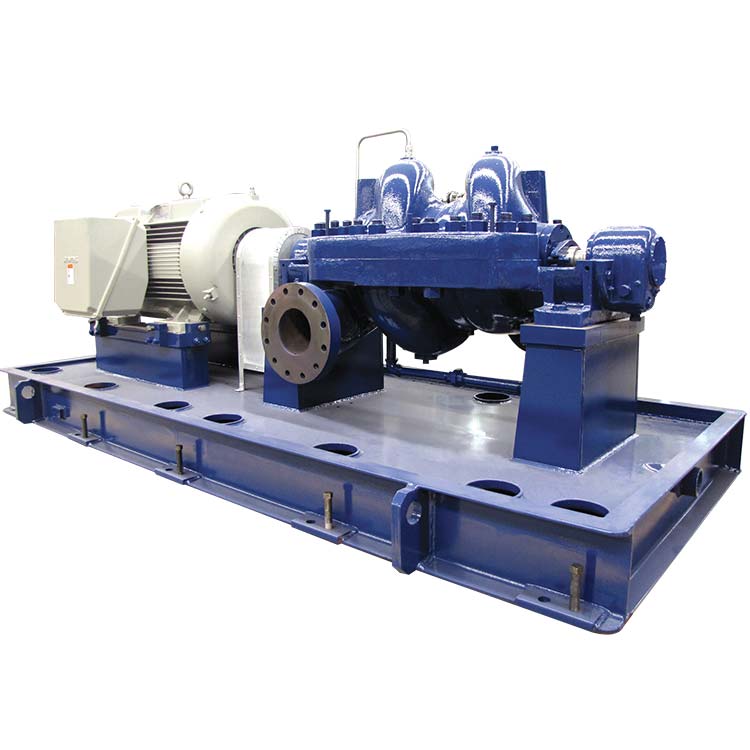 The HSM pump is a horizontal, multi-stage (2 or 4), axially split case centrifugal pump designed and built acording to the Hydraulic Institute (HI) standard (BB3 type). It is a heavy-duty pump engineered mainly for high pressure applications and is part of the HS/ZW range of split case pumps by Ruhrpumpen which includes the: HSC, HSD, HSL, HSR, and ZW models.
Operation limits
Maximum Pressure up to 51 bar (740 psi)
Temperature up to 121 °C (250 °F)
Applications High-pressure applications like: boiler feed water, petrochemical, water pipelines, chemical, water cooling and circulating water.
CHARACTERISTICS AND DESIGN FEATURES
Hydraulic Institute (HI) design - BB3 type
Two and four stages, axially split case centrifugal pump
High efficiency, double volute design
Single suction, enclosed impellers
Counter clockwise rotation viewed from coupling end
Oil lubricated bearings
Flanged connections
Stuffing box allows for packing or mechanical seal
STANDARD CONSTRUCTION MATERIALS
All cast iron
Cast iron, bronze fitted
Carbon steel, iron fitted
Cast iron, 316 SS fitted
Other materials available upon request
Pump curve for RP's axially split case pumps: HSC, HSD, HSL, HSR, HSM, ZW