Ruhrpumpen provides a 244 ft. long vertical pump for propane storage cavern
Magellan Midstream Partners, L.P. is a company dedicated to the storage, transportation and distribution of oil and its byproducts.
Magellan faced the decision to repair or replace an old vertical pump. This original pump, a Johnston pump, had been operating for over 40 years on a man-made propane storage cavern and was at the end of its service life. Magellan determined a replacement pump was the most cost effective solution.
The Ruhrpumpen engineering team worked closely with Magellan to ensure a plan that offered both a replacement dimensional match and improved hydraulics per Magellan's needs. To ensure a match, our Reverse Engineering specialists took measurements in the field to guarantee that the new pump complied with all existing requirements. After a thorough evaluation, our team recommended a 244 ft. long vertical pump from our VLT pump range, an HX model of 11 stages.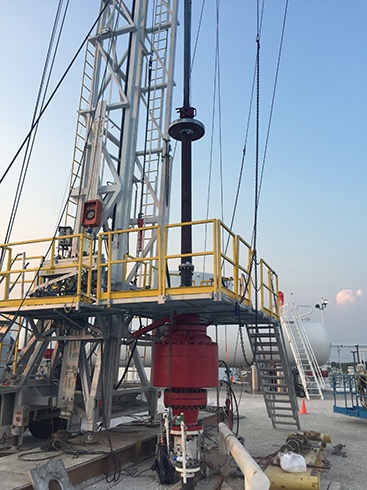 Another challenge was faced by our field service team, as they had to complete the installation in a timely manner. The work was conducted while the propane cavern was water plugged and the propane was not to be plugged any longer than necessary by customer's request.
Operation of the pump started immediately after installation and the pump is performing far beyond expectations.
"The Cavern pump is running really well. Head and flow are better than the original design (because we chose not to trim the impeller so performance is a little higher) and the vibration levels are so low the vibration analyst had doubts if his data collector was working correctly."

Brian McBroom, Magellan
Magellan chose Ruhrpumpen based on our demonstrated capabilities to provide innovative pumping solutions and technical services for fluid handling.