Introducing the RP ANSI Process Pump Range
Since 1955, committees in the United States have worked on the development of centrifugal pump standards to meet the needs of the chemical industry.
First, let's define ANSI pumps:
ANSI pumps are centrifugal process pumps that meet the standards of the American National Standards Institute (ANSI). By definition, these chemical pumps are horizontal, end suction single stage, centerline discharge, centrifugal pumps comparable in size and dimensions regardless of pump manufacturer. These pumps are required to meet the ANSI / ASME B73.1 standard of the American Society of Mechanical Engineers (ASME).
What does the ANSI / ASME B73.1 standard says?
The ANSI B73.1 standard was first published in 1974. Since then, the committee has continued to be active and has defined the standards for 27 pump sizes through several revisions.
It is the specification for horizontal, end suction, single stage centrifugal pumps for chemical process applications, and covers metallic centrifugal pump designs. The ASME B73.1 standard states the dimensional interchangeability requirements, configuration and design features to pump manufacturers in order to facilitate the installation, as well as to enhance reliability and safety of the pump unit.
Additionally, these standards set the guidelines and recommended practices related to the maintenance of these process pumps. The main focus of this standard is that all ANSI pumps manufacturers offer interchangeable equipment with respect to mounting dimensions, size and location of suction, and discharge nozzles, input shafts, baseplates, and foundation bolt holes.
It is important to mention that alternate designs are considered by the standard, provided they meet its intent and cover construction and performance specifications in equivalence with those specified.
Applications of ANSI pumps
Even though ANSI chemical pumps they are mostly used in the chemical and petrochemical industries, they can also be found in paper stock, ethanol production, pharmaceutical, food processing and several other process plants. They are most often used to pump thin fluids such as water, alcohols, and other less aggressive fluids. Depending on the impeller type, they can even pump fluids with solids. Moreover, with the right material selection, they can transfer highly corrosive and aggressive liquids.
Benefits of ANSI pumps
ANSI pumps offer plant operators the possibility to switch pumps and brands without having to change or redesign motor attachment, piping, coupling or baseplate dimensions. Other benefits include:
Dimensional interchangeability across manufacturers and brands
ANSI pumps and parts are readily available
Less expensive than API pumps
Can pump fluids with solids in suspension with the right impeller
---
Ruhrpumpen ANSI B73.1 Process Pumps
CPO Process Pump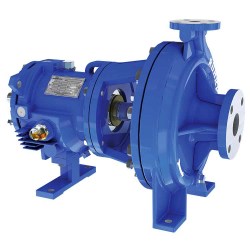 Its open impeller design allows handling of solids in suspension for chemical applications as per ANSI B73.1 standard.
CPP Process Pump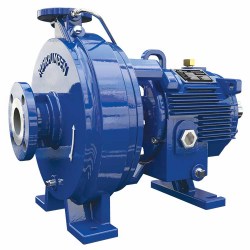 Designed to exceed the ANSI B73.1 specification, its basic hydraulic and mechanical concept incorporates an enclosed impeller.
---
ANSI vs API pumps
Casing design ratings:
ANSI Pump Rating = 300 psig at 300 °F
API Pump Rating = 750 psig at 500 °F
Now that we explained ANSI pumps, let's talk about the differences with API pumps.
API pumps follow the standard established by the American Petroleum Institute (API) and have become the pumps of choice for aggressive oil refinery processes. They operate in heavy-duty, high pressure, and high temperature applications.
Unlike the ANSI standards, which are dimensional, API 610 centers in the design, construction and performance of process pumps used for the transfer of high-temperature liquids in the oil and gas industry.
ANSI pumps do not incorporate many of the design and construction features specifically mandated for the tough conditions that API pumps encounter. However, they offer more flexibility and reliable operation across a range of applications with a lower cost, thus becoming the pump of choice for chemical processing.
API and ANSI pumps are two different styles of process pumps. It is important to recognize your application need so you choose the best fit.
Both pump styles are single stage centrifugal pumps with a radially split casing. Their designs accommodate a back pull-out arrangement for ease of maintenance and mostly employ a single volute design in the interior passages of the casing. However, larger API pumps are engineered with a double volute design to reduce thrust loads.
Pump casings in ANSI and API pumps differentiate in the manner the back cover is secured to the casing. Another major difference between these process pump styles is the configuration of the mounting feet. All ANSI pumps are feet-mounted, while API pumps are mounted at the horizontal centerline of the casing.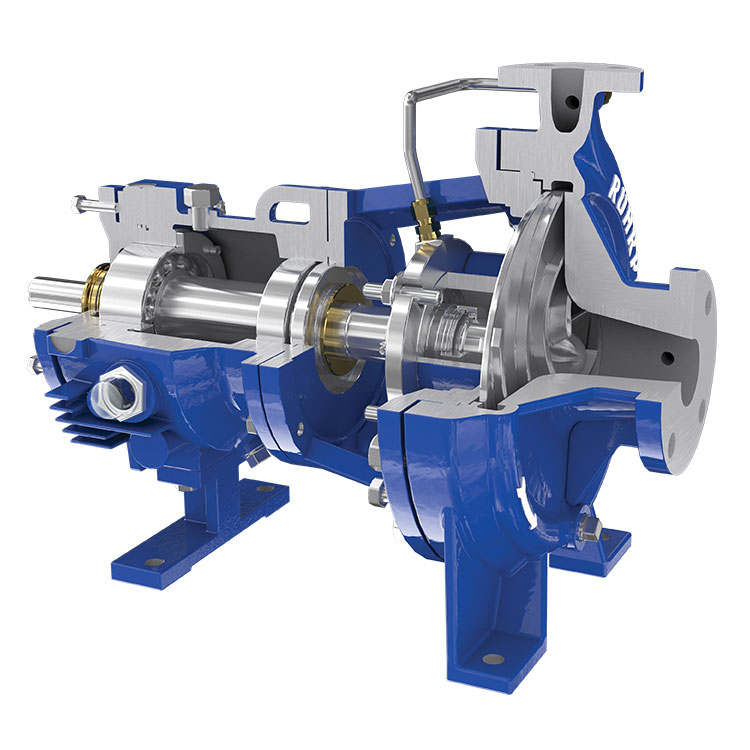 Fig. Typical ANSI Pump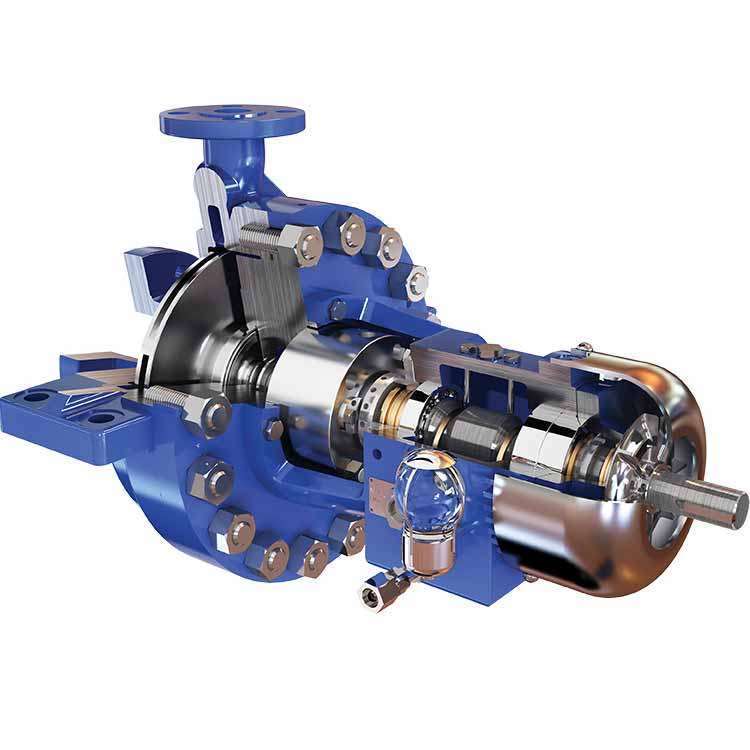 Fig. Typical API Pump
Remember to keep in mind these factors when selecting your pump. Only the correct pump will provide a profitable and reliable operation.
When selecting your pump, you must take into account the specific operating conditions and properties of the pumped fluid… Do you need assistance choosing an ANSI or API pump? Talk to one of our experienced engineers first. Contact us! We will be happy to answer any questions you may have.