Re-bowling service for vertical pumps
Vertical turbine pumps can be found in all industries operating for a wide range of applications. From petrochemical and power generation plants to municipal water systems, vertical pumps are an ideal choice thanks to their ability to develop high head with multiple impeller bowls.
It is common, after many years of continuous operation, that the efficiency and reliability of your vertical turbine pump decreases, resulting in higher energy consumption and maintenance costs. This leads to necessary periodic overhauls needed to restore maximum operating life.
Most frequent repairs for vertical pumps include replacing the line shaft and pump bowl bearings, replacing worn shafting, removing corrosion from submerged components and applying corrosion-resistant coatings.
Is your vertical turbine pump still performing as new? Do you need to change the operating conditions of an installed pump?
Here are some choices:
Replace it
Repair it
Let Ruhrpumpen re-bowl it!
Rebowling service… new life for old pumps
Replacing the bowl assembly of your vertical turbine pump can be the most appropriate solution without disturbing the existing piping and keeping some of the original parts such as the driver, discharge head and column pipe. Our team will work on the best selection to ensure that your original hydraulic performance conditions are met or exceeded.
Re-bowling is a process that consists of installing a new bowl assembly on a vertical turbine pump to provide like-new or upgraded performance and reduce total operating costs.
RP re-bowl services offer you the following benefits:
Change out obsolete pump models
Upgrade hydraulics to OEM tolerances
Increase efficiency
Material upgrades for corrosive applications and prevent cavitation
On-site installation service
No change in piping or motor
Quick turnaround
New pump warranty on bowl assembly
Less expensive than buying a new pump
RESULT: a professionally repaired pump that offers the quality of a brand-new equipment.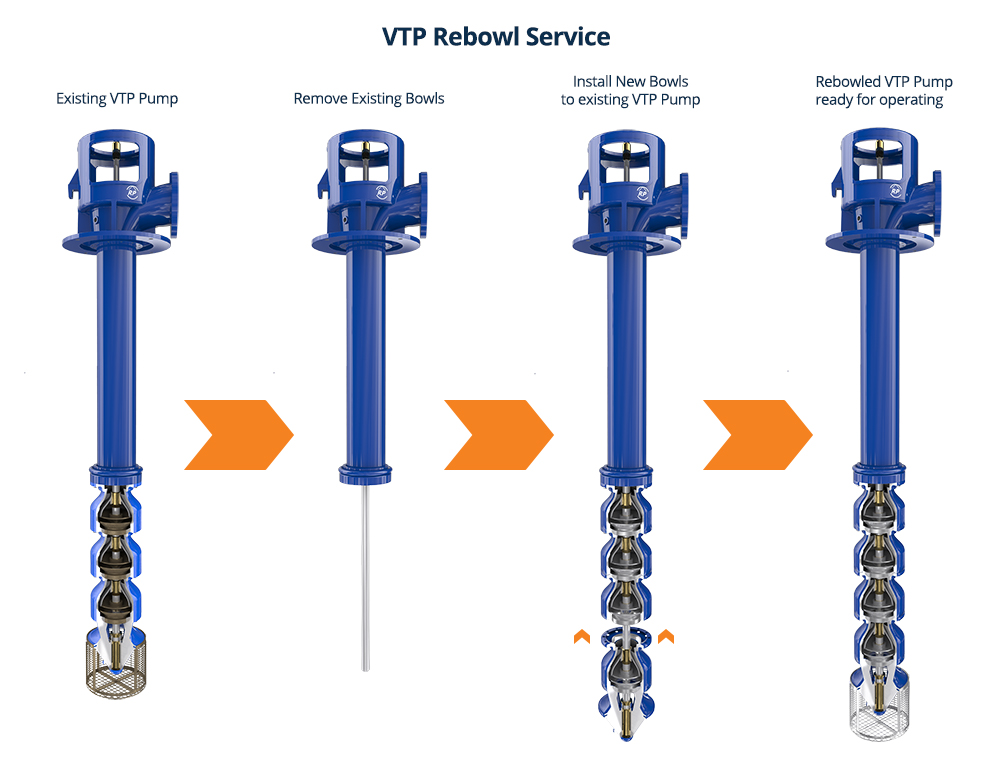 Ruhrpumpen's rebowl services are available for any vertical turbine pump, regardless of model, age, service or manufacturer.
We can repair pumps from any manufacturer or from our heritage product lines:
Byron Jackson: VLT and VMT (models: B, DS, DX, G, K, KX, LS, M, PMR, Q, R, SKX, VX).
Nassa Johnston / Worthington: VTP.

Let our sales and service team help you determine the correct bowl assembly for your existing vertical turbine pump. With our in-house manufacturing capabilities we can easily work on a reasonable adaptation for your vertical centrifugal pump.
Our experienced technicians are equipped with the latest technology and training. Inspection can be done on-site or at our facilities. Moreover, our RP Service Network is fully prepared to re-bowl your pump in minimal time.
Once the mechanical and hydraulic requirements are determined, adaptation can be done at your nearest RP Service Center. We are also able to deliver the complete replacement bowl assembly for on-site adaptation and installation.