Pumping solutions to keep mines moving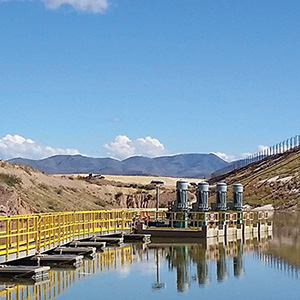 Essential for the production of everyday items, today's mining industry faces many though challenges. From a volatile commodities market to increasing energy costs, mining companies must be efficient, productive and profitable, all while adhering to environmental and safety regulations.
Whether on the surface or underground, mine operators around the world trust in Ruhrpumpen pumps for services throughout their operations; from water supply and distribution, to the circulation of process water and chemical solutions, our pumps can endure even the most abrasive pump applications in mines, always with industry-leading materials and robust designs.
Regardless of the metal or mineral being extracted, our pumping systems can be custom-engineered to suit any specific need in the mining operations. Moreover, to manage aggressive media, it is important to make a careful selection of materials. Our pumps are available in materials such as: stainless steel, duplex and super duplex, and specialty alloys.
Pumps for most mining applications and mineral processing
Throughout the exploitation and processing of mining resources, our catalog of vertical and horizontal centrifugal pumps can operate in services such as:
Raw water supply and transfer
A reliable water supply is an important requirement for mining operations and mineral processing.
Sources of water can go from groundwater, rivers and lakes, and even seawater extracted at the coast and transported to site. Our split case pumps and vertical pumps are the best options for the supply and distribution of water with great efficiency.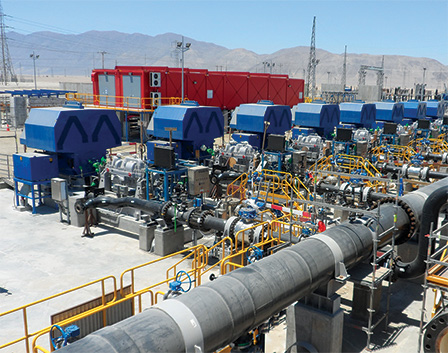 Seawater for mining operations
Ruhrpumpen pumps are used to transport and desalinize seawater for the supply of water for mines. For example, several pumps models VTP and SM are part of the seawater pipeline to Sierra Gorda, in the region of Antofagasta in Chile, with water collection and pumping stations along 140 km of pipe to transport seawater to a height of 1,700 meters above sea level.
Moreover, our models JTN and GP can be used as feed pumps in desalination by reverse osmosis for the pre-treatment of water.
Mine dewatering and groundwater control
Our end suction, split case and vertical pumps can operate in the control and management of surface water and groundwater to allow mining in relatively dry conditions and improve the efficiency of mining methods. Moreover, it is important to manage the outflow of acidic water to ensure that a mining operations' impact on the environment is minimal.
Wastewater treatment
Water discharged from drainage, effluent and sewage derived from mining operations and mineral processing should be treated and be clear of contaminants to re-enter processes and reduce the need for raw water supply.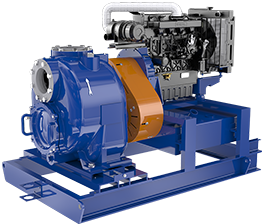 Process water
Pumps for circulating and distributing process water, especially in mines with a negative water balance where water conservation is of vital importance.
Dust control
An inevitable result of mining operations, dust can be controlled with water spray systems powered with our water pressure booster pumps models GSD, IVP, ILL, and split case pumps (HS line and ZW).
Chemical processing
Our CRP-M, CPP, ZW and VSP pumps for the recirculation of chemical solutions used for the extraction and separation of minerals and metals from ore, such as:
Leaching / Lixiviation: the process of extracting a soluble metallic compound from an ore by selectively dissolving it in a suitable solvent such as water, sulfuric acid or sodium cyanide solution.
Flotation: process by which chemicals are added to a crushed ore-water slurry to recover the mineral.
Fire protection service
The last thing a mining site can afford is a fire. It is important to safeguard operators and vital equipment, especially on the hostile conditions that mining occurs.
Ruhrpumpen fire protection packaged systems for mine sites incorporate pumps, drivers, control systems and pipework in a single container for easy installation and delivery on a single shipment to your site. They can be skid mounted, with or without enclosure, and supplied with electric motor or diesel engine.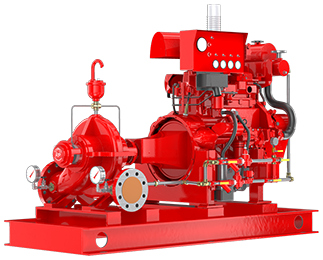 ---
In Ruhrpumpen, we understand the pumping challenges of the mining industry. Our team of experts can help you find the correct pumping solution for your mine site.