Battling the energy crisis with cutting edge technology...
Ruhrpumpen develops molten salt vertical pump for the Yumen Xinneng Concentrated Solar Power Plant
China's National Energy Administration (NEA) is pushing for the development and deployment of renewable energy plants across China in order to meet the power consumption demands of the growing population without sacrificing the nation's environmental conservation goals.
Several companies were tasked with the creation of these renewable energy plants; among them, is Yumen Xinneng Co., a company focused on the design and operation of solar power plants. Yumen Xinneng trusted in Ruhrpumpen for the development of a vertical pump for their molten salt energy storage.

Ruhrpumpen's engineering team was tasked to provide a vertical pump capable of delivering 120 meters of head and a flow of 780 m3/h while also being able to withstand temperatures up to 400°C. Our multidisciplinary team, formed by Mexican, American and Chinese engineers, worked closely together in the creation for the optimal solution for this project. Engineering and design was done in North America, while the pump was fabricated, assembled and tested in our Chinese facility.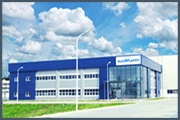 The Ruhrpumpen Changzhou facility in China is one of the main production units for the power market. Focusing on domestic and export markets, it counts with highly sophisticated production equipment, packaging and testing facilities and service teams. Furthermore, it has the capability to manufacture one of the most diverse product ranges within Ruhrpumpen's Global network.
RP's long time experience in the development of vertical pumps, together with the most advanced engineering techniques such as advanced stress and thermal analysis, enabled our team to design a single vertical molten salt pump, model VCT 20CKX. This pump features specialized materials and custom design that will enable it to operate under the extreme temperature conditions.
The pump passed the witness test on October 31st 2018, and is set to be installed on site during Spring 2019.
This VCT Molten Salt pump not only reaffirms that Ruhrpumpen is capable of meeting any pumping challenge, it also confirms our position in a rapidly growing market of renewable energy, the Solar Thermal Power.