Skid mounted or fully housed Packaged Fire Pump Systems
Ruhrpumpen offers fire protection pumping solutions for a wide variety of industrial, commercial and residential applications. Our Pre-Packaged Fire Systems are tailored and built to the requirements of the customer ensuring that they meet international and local safety regulations. Customers can choose from a prefabricated fire skid unit to a pump room firefighting system with electric motor, diesel or steam engine.
RP's factory assembled and tested Packaged Fire Pump Systems are built in compliance to the National Fire Protection Association (NFPA 20 & NFPA 850) standards and include UL listed and FM approved pumps and ETL/C-ETL third party listed components.

Benefits of using a Pre-Packaged Fire System
Time and Space Saving
Our cost-effective packaged fire systems save you time and space as they can be dimensioned to precisely fit the specified area facilitating its installation. The system is delivered on a single shipment, leaving only pipe and power connections to be completed on site.
Factory Assembled and Tested
Nothing is left to chance with a Ruhrpumpen Fire System. It is completely built, tested and certified in our facility, making sure that it follows international fire safety regulatory legislations and standards like NFPA-20.
Single Source Responsibility and Service
The expertise of our engineering team, outstanding design and quality construction, ensure the reliability of Ruhrpumpen's fire protection systems in case of an emergency. Our team can provision start-up support, while our Global Service Network is able to provide field service, inspections, maintenance and training.
Fully Customizable
In order to match the specific requirements of any application, our engineering team can design complete Pre-Packaged Fire Pump Systems that can vary from a fire pump with an electric driver on a skid, to a fully prefabricated unit with environmental enclosures.
Packaged Fire System Features: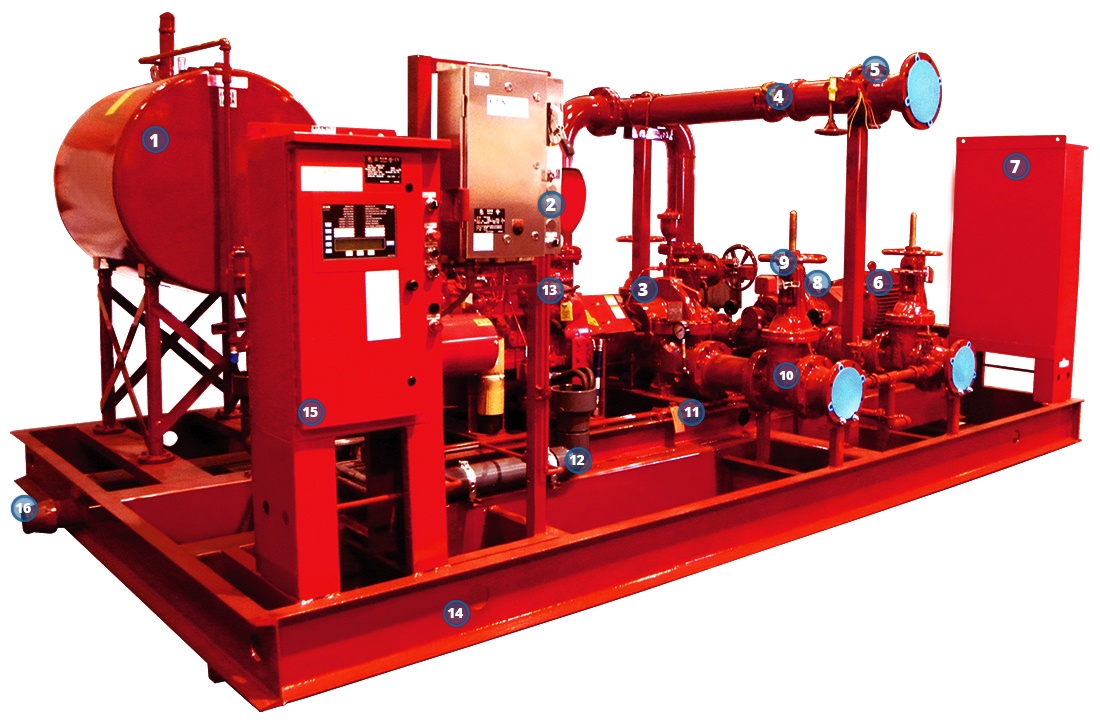 UL-142 Double Wall Day Tank
UL Listed Jockey Pump Controllers
UL/FM Fire Pump
FM Flow Meter
Throttling Valve
Electric Motor
UL/FM Electric Control Panel
Jockey Pump
Tamper Switches
UL/FM Listed OS&Y Gate Valves
Copper Sensing Lines
Schedule 8-CPVC Containment Piping for Fuel Piping
UL/FM Listed Diesel Engine
ASTM A36 Structural Steel Skid
UL/FM Diesel Control Panel
Floor Drain System
---
Applications:
Sprinkler systems
Hydrant systems
Water curtains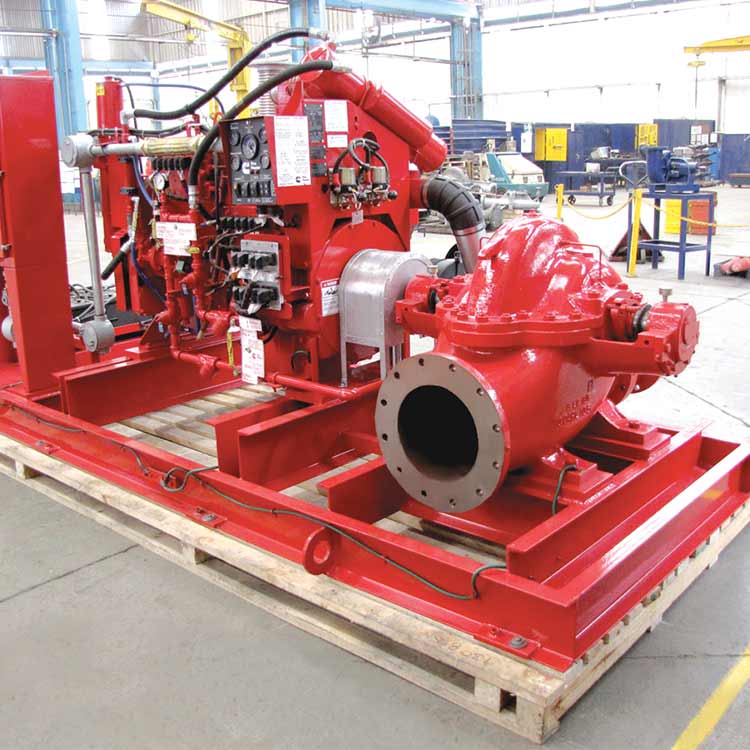 Other (optional) features of Ruhrpumpen's Pre-Packaged Fire Systems:
Our marine fire suppression systems offer high performance coating systems for corrosive or coastal environments
Stainless piping for seawater or brackish water applications
NFPA-20 compliant mobile pre-packaged fire systems are available
Optional features for fire pump rooms like: interior lighting, pre-piped sprinkler system, exhaust fan, mini power zone, built-in thermostat among others
ABS certification for offshore platform fire pump packages and fire skid units