The CPO is a horizontal, end suction, ANSI process pump
with open impeller (OH1 type)
Our CPO pump line is the result of tremendous efforts to meet the ever-changing demands and complex needs of our clients in a wide range of industrial, chemical and municipal applications. It is designed to meet or exceed the ANSI/ASME B73.1 – 2012 specification and is available in 31 sizes.
Our installed base, with users in the general industry, chemical process and municipal markets, demonstrate the remarkable reliability and performance of our CPO pump.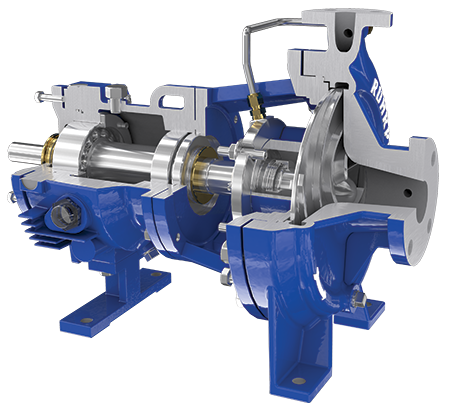 The CPO highly-engineered Power Frame
is 100% interchangeable with the most
common American pump manufacturer
Why prefer the CPO over competitor brands?
Lower NPSHr due to the computerized impeller design
More robust Power Frame due to larger bearings than competitors
Bearing life of 50000 hours at BEP, max speed and max impeller diameter
Plate retainer for axial bearing instead of snap ring increases the bearing life, reduces vibration and eliminates end shaft play
Micrometer impeller setting feature. It's easier to set the impeller clearance vs the jack screw method used by competitor
Inpro VB45-S bearing isolator as standard. This effectively seals bearing housing when shutdown, makes oil and bearings last longer by eliminating contamination
360° sight glass from Luneta doesn't cloud and offers high strength
Larger oil sump than competitors
Fit all these features to a competitor pump with a simple shaft change