Ruhrpumpen has a complete offering for Power Plant pumping needs!
Ruhrpumpen has been providing high-performance equipment to plant engineering contractors and operators in the Power Generation Industry for more than 65 years
Our pumps are critical components in power plants of all types around the world and help our customers improve up-time, reduce emissions and optimize plant efficiency. Ruhrpumpen has a full range of pumps to meet all the stringent requirements of a high efficiency Power Plant... from utility water pumps, fire fighting systems and condensates to boiler feed and large diameter vertical cooling water pumps, Ruhrpumpen has you covered!
At the heart of the power generation process, the Boiler Feed Water Pump (BFP) plays an essential role, feeding high pressure and high temperature water to a steam generator, such as a Boiler or HRSG (Heat Recovery Steam Generator). Without this feed to the boiler there is no steam and no power can be produced, thus the highest levels of availability and reliability are required for these pumps!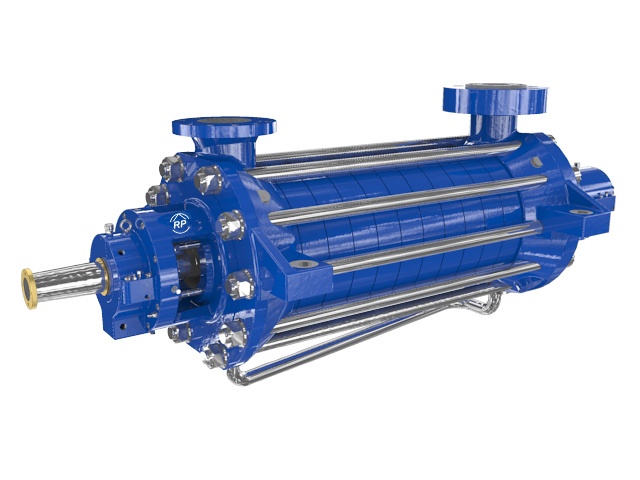 Ruhrpumpen has recognized the demand for the highest levels of up-time in designing our GP pump, which is a horizontal, diffuser type, multi stage, between bearing, ring section pump which is ideally suited to this strenuous (high temperature, high pressure) service – particularly in combined cycle plants where severe cycling and thermal transients often occur. Its compact design, together with high efficiency hydraulics, provides superior performance and exceptional reliability combined with easy maintenance and minimal operating costs.
The GP Pump is an extremely robust Boiler Feed Water Pump based on Ruhrpumpen's BB5 API pump, which is used in demanding high temperature and high pressure applications in the Oil & Gas market. The GP, a BB4 type pump, features rugged 360 degree bearing housings and has been designed using state-of-the-art technology to provide optimum mechanical and hydraulic characteristics, including the capability for cold start (no warmup required) in most services.
Boiler feed pumps are one of the largest consumers of power in the plant process, so the GP features investment cast hydraulic parts and fully optimized clearances to provide high efficiencies and reduce operating costs.
More than 40 different hydraulics provide hundreds of combinations, allowing RP to offer optimized selections for a wide range of flows up to 900 m³/hr (4000 gpm). The GP pump can be customized to support the particular needs of your power plant system and specific application with our range of option features that include:
Up to two inter stage take-off feeds, for intermediate/low pressure flows, are available with hydraulics optimized to provide maximum efficiency across all pump stages
Low NPSH first stage impeller design available
Optimized thrust balancing solutions (balance disk or drum solutions are available) provide the benefit of enhanced efficiencies and the ability to use antifriction bearings with ring oil lubrication in most applications
Non-metallic stationary wear parts can be offered for enhanced efficiency
On high temperature, high pressure services multiple screw mechanical tensioners makes it practical to use only hand tools (no hydraulic tool needed!) for tightening of the tie-rods, achieving uniform tension and without any torsional stress component
Ruhrpumpen pumps for Boiler Feed Water Service:
As well as the GP model, our BB4 type pump, Ruhrpumpen has the SM and JTN models (BB3 type, axially split, multistage pumps - available in both diffuser and volute configurations), the A Line pumps (BB5 type, double casing barrel pumps) and pitot tube pump designs available to be used in Boiler Feed Water Service as appropriate to the specific plant needs.
---
In addition to our Boiler Feed Water Pumps, Ruhrpumpen has a complete offering of pumps for all major applications in power generation plants. With a global manufacturing base, competitive costs and extensive service network we are ideally placed to be able to offer the complete package of pumps for your power plant:
Condensate Pumps
Condensate pumps are required to handle low pressure water leaving the condensor, hence this service often requires a vertical canned pump suitable for use on low or zero NPSH applications.
Models VLT, VTP and VCT are vertical multi stage canned pumps suited for condensates
Low NPSH3 first stage impeller designed to match series stage flow rates. This first stage impeller is designed to provides shockless fluid entry with optimized eye/vane inlet angles – they are not typical "large eye impellers" operating away from their best efficiency point
Option for double suction first stage for higher flow rates
Keyed impellers
Mechanical seal
Cooling Water Pumps
Cooling Water Pumps circulate large volumes of water from cooling towers or other sources, such as a lake or river, to the condensor. Typically require high flows, but low head.
The VCT vertical circulating pump line has been designed specifically for water services
Suitable for high flows with diameters over 108" (2800 mm)
Industry-leading high efficiencies
+2,500 installations of this pump worldwide by RP
General Service Pumps

Wide range of vertical and horizontal pumps, including ANSI, ISO and API designs, to fulfill all general service duties.
Fire Fighting Pumps and Systems

Ruhrpumpen is a world leading specialist in the design and manufacture of UL Listed and FM Approved fire protection pump systems with NFPA full compliance.