Let's solve your industrial process needs... the Ruhrpumpen CPO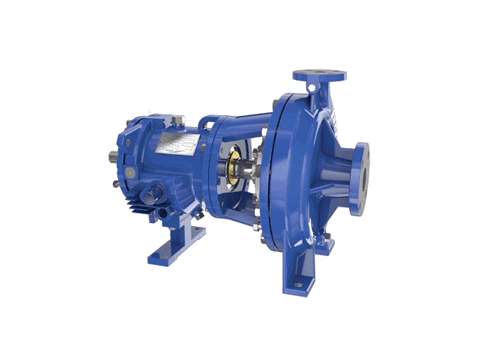 Our newly redesigned horizontal single stage process pump is the result of tremendous efforts to meet the ever-changing demands and sophisticated needs of our clients in a wide range of industrial, chemical and municipal applications.
The CPO line is designed to meet or exceed the ANSI / ASME B73.1 specification; standard that covers centrifugal pumps of horizontal, end-suction single stage, centerline discharge design, including dimensional interchangeability requirements and design features to facilitate installation and maintenance.
The CPO highly-engineered Power Frame is 100%
interchangeable with competitor pump brands
The CPO allows the provision of multiple hydraulics using only three power frames, which are functionally and dimensionally interchangeable with models of other ANSI / ASME B73.1 pump manufacturers. It can be perfectly dropped into any existing ANSI pump installation without any problem. There will be no need for piping or base changes. This makes an efficient parts inventory possible through extensive interchangeability of parts between pumps.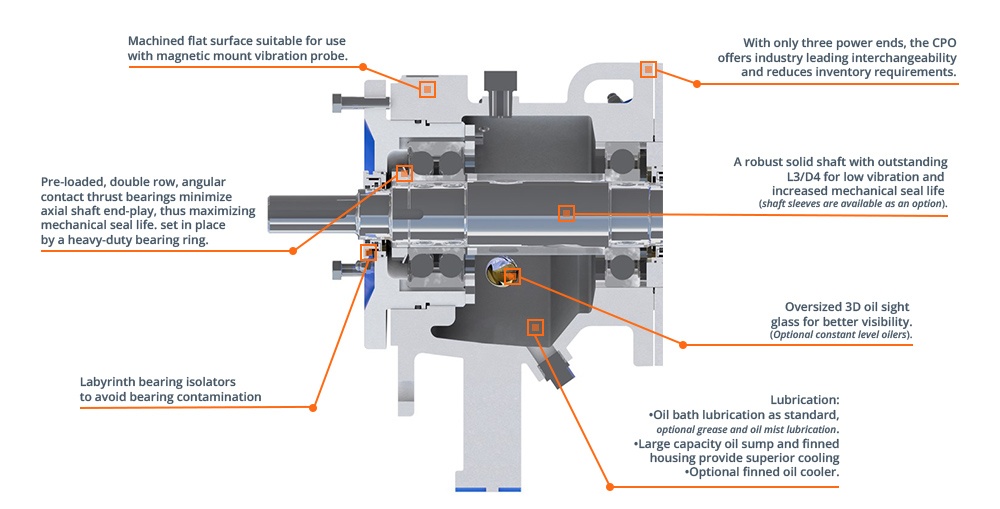 Manufactured in 31 sizes, with capacities up to 7,000 U.S. gpm and heads up to 650 feet, the CPO is produced and stocked in a wide range of materials such as:
Ductile Iron / CD4MCuN (Duplex)
SS316
CD4MCuN
Alloy20
Hastelloy C
Hastelloy B
Zirconium
Titanium
The CPO process pump characteristics and benefits:
Back pull-out design
Dimensional interchangeability with most common ANSI / ASME B73.1 pump manufacturers
Open impeller design ideally suited for fluids containing aggressive contaminants or suspended solids
External impeller adjustment to maintain the correct impeller clearance as internal parts wear (using only common hand tools)
More than 31 diferent sizes
Swift and easy maintenance
Industry leading low NPSHR performance and high efficiencies
Low initial and operating costs
C-Frame option is also available
CPO-L - low flow, high head model
Ruhrpumpen offers a design variant: the CPO-L Low Flow, High Head model. Its radial vane impellers are specially designed to reduce the thrust load and seal chamber pressure normally associated with low flow application and it also complies with the ANSI / ASME B73.1 standard.
The CPO-L is the low flow option of the CPO pump line, designed to fill the gap on the low flow side of the CPO range map. With low flow applications, it is important to reduce the radial load and potential shaft deflection issues. Ruhrpumpen's radial vane impeller and concentric pump casing for the CPO-L are specifically designed to reduce these issues at low flow or throttled operating conditions. The radial vane impeller with balance holes also reduces seal chamber pressures. This will lead to increased seal and bearing life and increased reliability.