Constant level oiler change procedure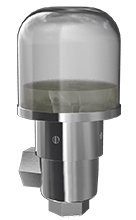 Constant level oilers are one of the most widely used methods of maintaining the correct level of lubricant in a bearing housing. They have been utilized on process pumps for more than 50 years.
The constant level oiler replenishes oil lost by leakage or evaporation through seals, vents and plugs in the bearing housing.
Proper maintenance of these oilers should be an utmost concern.
Our team of experts created the next document explaining the oil change procedure: