Sealless mag drive pumps for complex chemical process applications
"Magnetic drive" refers to the coupling between the wet end of the pump and the motor. The dynamic seal that would normally be used to seal the pump shaft is replaced by a static containment shell to form a completely sealed liquid end or pressure boundary.
Magnetic drive pumps are a cost-effective solution as they require less maintenance because they do not use gland packings or mechanical seals. They are also a highly reliable alternative against traditional sealed pumps condsidering they have zero leakage of fugitive emissions.
RP's sealless pumps operate with great efficiency and are a clear choice for hard-to-seal chemical handling applications; especially with potentially toxic, volatile, highly corrosive, acidic and costly liquids, allowing to follow strict environmental and safety regulations for many process industries.
Magnetic Drive Pumps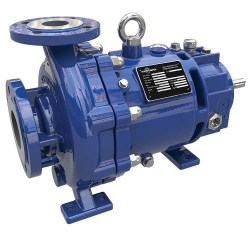 The CRP-M pump range is equipped with a permanent magnetic drive in accordance with DIN EN ISO 2858, striking new paths especially for its ...
Capacity up to 500 m³/h (2,200 gpm)
Head up to 215 m (705 ft)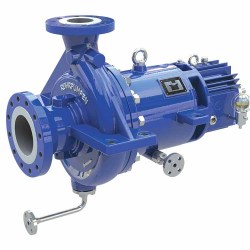 The SCE-M is a heavy-duty horizontal centrifugal process pump with permanent magnetic drive complying with the latest edition of API 685. ...
Capacity up to 2,200 m³/h (9, 690 gpm)
Head up to 330 m (1,080 ft)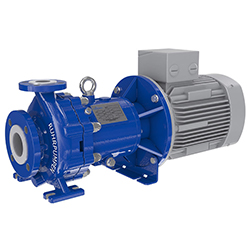 With Permanent Magnetic Drive, the CRP-M-CC sealless centrifugal pump meets full DIN EN 2858 and DIN EN ISO 15783 standards. It's 100% ...
Capacity up to 140 m³/h (620 gpm)
Head up to 146 m (480 ft)
Ruhrpumpen's magnetic drive pumps can handle more than 150 different fluids, from the most corrosive and aggresive acids to volatile chemicals and expensive liquids, plus a large number of various mixtures in DIN/ISO and API configurations, including, but not limited to:
Caustic Soda
Ethylene Glycol
Hydrochloric Acid
Solvents
Phenol
Thermal Oil
Acetic Acid
Styrene & Styrene Monomer
Edible Oils
Benzene
Butadiene
Xylene
Naptha
Toluene / TDI
Thermal Oil
VCM
MDI
Titanium Tetrachloride
Carcinogenic Organics
Isopropanol
Nitic Acid
Pormaldehyde
Cocoa Butter
Crude Oil