RP Decoking team at Refcomm Galveston 2018
The Ruhrpumpen Decoking team was present at Refcomm 2018. The conference happened from May 7th to the 11th, 2018, in Galveston, Texas, and continued to impulse Ruhrpumpen as the specialist in delayed decoking technology.
The recognized worldwide event has training, technical conferences and an exhibition for engineers, operators, maintenance and managers of the refining community from all around the world.
Our special trailer was there to show all our hydraulic decoking equipment like Drill Stem Drives, Crossheads and Cutting Tools.
As an exclusive presentation, this year we had a VFD operated electrical hoist to show refiners and company representatives the real and live operation of an electrical driven system.
In numbers:
152 Refiners End-Users
232 Exhibitor (Several EPC Company's like Wood, Bechtel etc.)
83 suppliers of equipment and components for the industry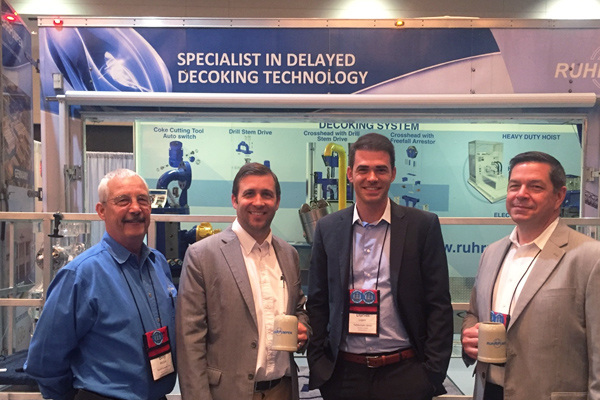 Ruhrpumpen was part of a discussion panel with the topic "Remote Decoking Experiences – Directly from the Coke Cutter". In the panel, EPCs, end-users and equipment providers discussed the trend and lessons learned when adapting these systems to the site-specific needs.
As remote decoking systems are becoming an industry's best practice, Ruhrpumpen has established as a leading supplier and pioneer on Remote and Automatic Cutting. During the panel, our experts shared their remarks on the topic and appreciated the large interest demonstrated by end-users and EPCs.
Our complete Coke Cutter systems offer increased safety for your operative personnel as the system can be operated outside of the cutting deck from a remote location. This means personnel is no longer exposed to: high-pressure water, hot spots or steam eruptions, hydrogen sulfide vapors or mechanical hazards.