Ruhrpumpen and Wolong partner in the development of pumping equipment for the Missan Oil Field in Iraq
The pumps will be used to supply high pressure deoxygenated water for well injection.
Ruhrpumpen Group, a global pump supplier, and Wolong Electric, one of the largest global electric motor producers, have recently announced the awarding of a contract from Missan Oil Company (MOC) to supply five API 610 barrel-casing pumps.
The pumps will operate in the Missan Oil Fields, located around 350 kilometers southeast of Baghdad.
Water flooding or water injection, is the process where water is injected into de oil field, usually to increase pressure and thereby stimulate production.
The five water injection pump packages include a horizontal, multi-stage, radially split, double case pumps, from RP's A Line pump range, with unit control panels, turbo coupling, monitoring systems and external air coolers. Each pump package will be driven by a range of electric motors from 1000kW to 4280kW and voltages of 3300V to 11000V in ExdllC T3 design developed by Wolong.
"We are delighted to have secured this contract for one of the most stringent services in an oil extraction field. The cooperation with Wolong in the development of these pumping packages has been crucial to guarantee the best efficiency for the end user," said Marcelo Elizondo, Global Sales and Marketing President for Ruhrpumpen Group.
Wolong International Vice President, Francesco Falco also added: "Wolong is proud to be a reliable partner for the development of the most challenging electro-mechanical system solutions in the O&G industry. We are focused to deliver productivity to our customer".
---
About RP's A Line barrel type pumps: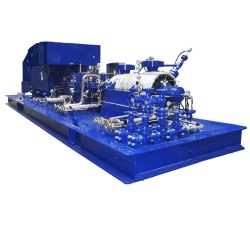 The A Line pump range includes the A, AB, ADC and ADSL pump models of heavy-duty, horizontal, radially split, multi-stage diffuser type pumps engineered and manufactured to the latest edition of API 610 (BB5 type).