Pumps and service for nuclear power plants
Nuclear energy offers a clean alternative for power generation, accounting for 70% of all emission-free electricity generated and emitting no carbon dioxide, sulfur dioxide or nitrogen oxide. Nuclear power plants are important for the clean energy mix, providing a steady base to back up less consistent renewable power sources like solar, hydro and wind.
Ruhrpumpen Nuclear Service Center
Our 25,000 sq. ft. Nuclear Service Center located in Hampton, Virginia, is able to supply new pumps, repair most horizontal and vertical pumps and provide spare parts for most pump models.
We currently have a Quality Assurance Program that meets the requirements of ASME Section III Division 1 Class 2 and 3, 10CFR50 Appendix B, 10CFR Part 21, NCA‐ 3800 and NCA‐4000.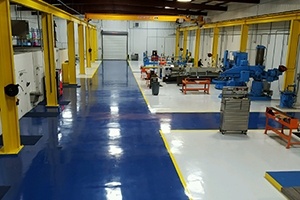 We now have ASME Certificates of Authorization as follows:
N Stamp for construction of Class 2 and 3 pumps and piping systems, allowing us to supply new pumps.
NPT Stamp for Class 2 and 3 pumps and piping systems without design responsibility and fabrication and design with design responsibility for Class 2 and 3 appurtenances and as a Material Organization supplying ferrous and non‐ferrous. This provides for and allows us to supply material, certify material, make parts either by our own design or someone else's, perform reverse engineering activities and make and certify part and piping systems as a result of the reverse engineering activities.
We also hold a National Board NR Certificate of Authorization "NR" for the repair and replacement of ASME Section III Class 2 and 3 pumps, parts, appurtenances, piping and piping subassemblies. This allows us to provide repair and replacement of parts from Nuclear Power Plants.
Our Nuclear QA Program and the implementation of the program has been audited by NUPIC members (NextEra and Energy Northwest) using the NUPIC Audit approach and latest checklist; we successfully passed this audit, allowing us to perform "Safety Related" work under 10CFR50 Appendix B program for these utilities.
Moreover, our dedicated reverse engineering division can provide support on site or through our service center to reverse engineer pump parts for any pump regardless of its manufacturer.
Pumps by safety levels in nuclear power plants:
Non-safety related pumps
Cooling water pumps
Condensate pumps
Heater drain pumps
Safety related pumps
Service water pumps
Containment spray pumps
RHR-service water pumps
ASME Class 1, 2 and 3 "N" stamped pumps
Service water pumps
Reactor coolant pumps
Augmented quality
---